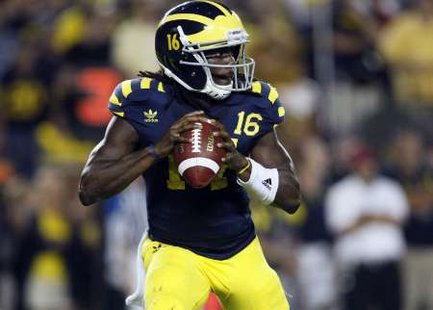 NEW ORLEANS, LA (WKZO) -- It's been 4 years since the Michigan Wolverines did their outgoing coach proud and defeated the favored Florida Gators 41-35 in the Capital One Bowl. Three less than terrific seasons under Rich Rodriguez later and the Wolverines are still seeking only their 2nd Bowl Championship Series bowl game victory.
The lone victory belongs to Lloyd Carr when Michigan beat Alabama 35-34 in the 2000 Orange Bowl.
Tuesday night the 10-2 Wolverines will kick-off against the 11-2 Virginia Tech Hokies in the Allstate Sugar Bowl beginning at 8:30pm. Michigan returns to the national stage after suffering through a 3-9 season in 2008, 5-7 in 2009 and a 7-6 season in 2010 before resurrecting the program under first-year Head Coach Brady Hoke in 2011.
Michigan began 2011 with a fire reeling off 6-straight wins including a comeback victory in the last moments over Notre Dame 35-31 in the second game of the season, a 28-7 win over Hoke's former team San Diego State and a dominant 58-0 victory over lowly Minnesota in week 5.
From there the Wolverines struggled falling to the arch-rival Michigan State Spartans 28-14 in East Lansing but finished strong beating Illinois, Nebraska and the hated Ohio State University to secure their first BCS bowl selection since a 2007 Rose Bowl loss to USC.
A victory gives the Wolverines their first 11-win-season since the 2006 campaign where they fell to USC in the 2007 Rose Bowl. Michigan and Virginia Tech kicks off at 8:30pm tonight.