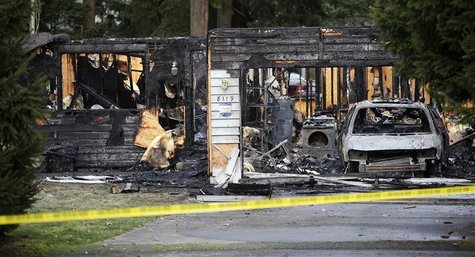 By Laura L. Myers
SEATTLE (Reuters) - Josh Powell, in a farewell voicemail message left for relatives before he triggered a fiery blast that killed himself and his two young sons, said he could not live without them and was "not able to go on anymore," ABC News reported on Tuesday.
The network reported that Powell had recorded the message for his brother and other family members just 20 minutes before blowing up his Washington state home on Sunday with himself and the boys, ages 5 and 7, inside.
"Hello this is Josh. I'm calling to say goodbye," a voice reported to be that of Powell can be heard saying on the tape, aired by ABC on its "Good Morning America" program.
"I'm not able to live without my sons, and I'm not able to go on anymore. I'm sorry to everyone I've hurt. Goodbye," he said.
The boys had just been dropped off at the house by a child welfare case worker for what was supposed to be a supervised visit with Powell when he burned the house to the ground, killing all inside, authorities have said.
Powell had been under investigation as a suspect in the 2009 disappearance of his wife, Susan, and had recently lost custody of the couple's two sons to her parents.
FBI and local law enforcement officials involved in the investigation of the missing woman and the deadly arson perpetrated by her husband either declined to discuss the recording or did not immediately respond to queries.
The taped message surfaced a day after the Pierce County Medical Examiner's Office disclosed that the two boys, Charles, 7, and Braden, 5, also suffered chop wounds, reportedly from hatchet blows inflicted by their father in the moments before they died from smoke inhalation.
The coroner ruled the father's death a suicide. He too, died from carbon monoxide poisoning.
"We believe that he (the father) attempted to murder them before the fire but didn't quite succeed," Pierce County Sheriff's Detective Ed Troyer told ABC News. "The brutality of this thing is just shocking."
CUSTODY BATTLE
Officials said Powell had locked the case worker out of the house and set off the explosion and fire while she was trying to call her supervisors. The case worker was unhurt but emotionally traumatized, her agency said.
The two boys had been at the center of a custody battle between their father and the parents of Susan Powell, who was last seen in December 2009 while the family was living in Utah.
A judge had denied Josh Powell, 36, custody of his sons last Wednesday because of "extreme child porn" found last September in the family's residence in Puyallup, Washington, about 30 miles from Seattle, Troyer has said.
The pornography, consisting of thousands of photos and videos of women and girls taken without their knowledge, was believed to have belonged to Josh Powell's father, Steven Powell, who had been living with his son and grandsons in Washington and is now awaiting trial on criminal charges related to the photos. His missing daughter-in-law, Susan Powell, was among those photographed, police say.
The judge in the custody case had ordered the boys to remain with their maternal grandparents, Charles and Judy Cox, until Josh Powell underwent a psychiatric evaluation, but allowed for supervised visits.
Moreover, family lawyers said the boys had begun to speak about their mother's disappearance. In recent months, one of the boys drew a picture for his first-grade teacher depicting his father driving a van with the two boys in the back seat and their mother in the trunk, according to Steve Downing, an attorney for Susan Powell's parents.
When the teacher asked the boy about the drawing, "Charlie told her, 'Then my mom and dad got out of the car and my mom got lost,'" Downing told Reuters.
At the time of his wife's disappearance, Josh Powell had told police that he had taken his sons, then ages 4 and 2, camping in subfreezing temperatures just after midnight on December 7, leaving his wife at home, and that she had vanished when they returned that afternoon, according to court documents.
In Utah, Salt Lake County prosecutor Sim Gill told Reuters that the search for Susan Powell was continuing "as an open investigation. It's a missing person's case."
Police from West Valley, Utah, were in Washington state working on the investigation from there.
(Additional reporting by Elaine Porterfield in Seattle and James Nelson in Salt Lake City; Writing by Steve Gorman; Editing by Cynthia Johnston)