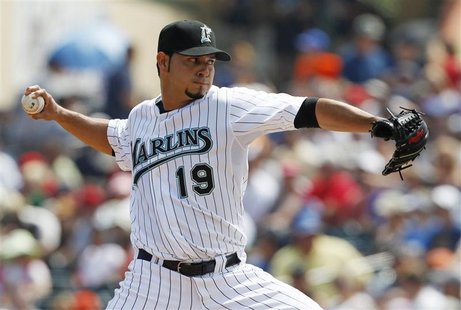 (Reuters) - Miami Marlins pitcher Anibal Sanchez will earn a record-breaking $8 million for 2012 after an arbitration panel ruled in his favor on Monday, Major League Baseball's website said.
The figure represents the largest ever for a starting pitcher who went to arbitration, MLB.com said.
Sanchez, who earned $3.7 million last season, had asked for the $8 million at a hearing on Friday. The Marlins had countered with a $6.9 million offer.
The Venezuelan right-hander went 8-9 with a 3.67 earned run average last season while setting career highs for innings pitched (196 1/3) and strikeouts (202).
Sanchez, a six-year major league veteran who turns 28 later this month, has a 39-38 career record with a 3.72 ERA. He is eligible to become a free agent in 2013.
(Reporting By Gene Cherry in Salvo North Carolina; editing by Steve Ginsburg)