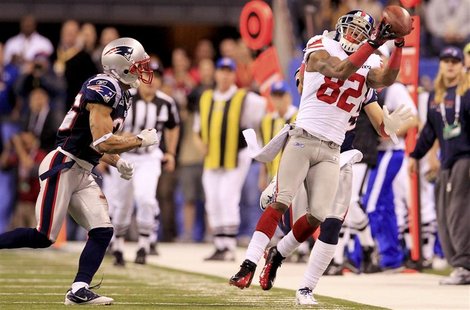 By Steve Keating
INDIANAPOLIS (Reuters) - Mario Manningham refused to place his clutch grab among the greatest moments in Super Bowl history, but the forgotten wide receiver made a memorable catch with the season on the line in the New York Giants' 21-17 Super Bowl win on Sunday.
Overshadowed by salsa-dancing Victor Cruz and powerful Hakeem Nicks for much of the season, Manningham seized the spotlight in the National Football League's title game with a spectacular sideline catch late in the fourth quarter that kept a thrilling game-winning drive alive.
Trailing the New England Patriots 17-15, Giants quarterback Eli Manning lofted a pass down the left sideline that Manningham brilliantly corralled, tip-toeing inside the sideline for a 38-yard gain.
Manning connected with Manningham again before Ahmad Bradshaw darted through the middle for the go-ahead score with 57 seconds to play in New York's win.
"I knew I was in, I knew I had a little bit of room to work on the sidelines and I knew I was going to have to freeze my feet when the ball touched my fingertips," said Manningham. "I just froze my feet and fell, wherever I caught the ball at."
In the celebrations that followed, Manningham's grab was quickly compared to David Tyree's grab four years ago when he pinned the ball to his helmet with one hand on the final drive that helped New York to a Super Bowl win over the Patriots.
Tyree's catch remains one of the championship game's most memorable but Manningham did not consider his sideline snare in the same class.
"It was a different catch, it was just a catch," a humble Manningham told reporters. "I didn't catch it like this or catch it like that. I didn't catch it against my head.
"It was just a catch. We work on that all the time, sideline catches. We work on our feet all the time."
Nicks was Manning's favorite target hauling in 10 passes for 109 yards while Manningham had five grabs for 73 yards, including the biggest of the game.
While Manningham viewed the catch as routine, others saw it differently.
"Great catch by him, keeping both feet in," said Manning. "It was a big, big, big-time play right there."
(Editing by Frank Pingue)