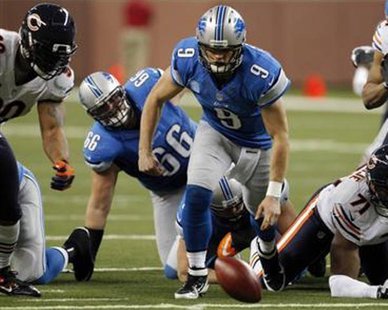 UNDATED (WHTC) - Jay Cutler threw for one touchdown, Matt Forte rushed for another, and Orlindo Mare booted four field goals, as the visiting Bears on Sunday handed the Lions their eighth straight defeat, 26-24. Despite a 10-6 record, Chicago missed the playoffs, while Detroit ends the season 4-12, and will have the fifth selection in April's NFL Draft.
***
Tayshaun Prince capped a 20-point performance on Sunday night by hitting two free throws with less than 11 seconds left to lift the Pistons past visiting Milwaukee, 96-94. Detroit is home to Sacramento on Tuesday evening.
***
In state major-college basketball on Sunday, Detroit defeated visiting Canisius, 83-78.
***
New Years' Eve sports action includes matinees for Michigan State, who visits Minnesota, and the Bulls, who are home to Charlotte. Evening play finds the Griffins hosting Rockford.