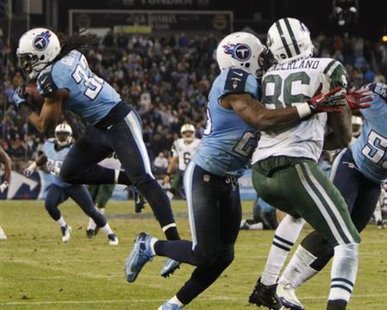 UNDATED (WHTC) - High school basketball along the Lakeshore last night saw Black River's boys defeat Freedom Christian, 60-46; Calvary's boys beat Fruitport Calvary, 58-34; West Ottawa's girls beat Mona Shores, 43-40; and Calvary's girls fall to Fruitport Calvary, 53-45. This evening in boys' action: The Holland at West Ottawa game is on 1450 WHTC and http://whtc.com/listen-live at 6:40 PM; Saugatuck visits Hartford; and Fennville travels to Lawrence. In girls' play: The Hartford at Saugatuck contest is on 92.7 The Van and http://927thevan.com/listen-live at 6:40 PM; Holland visits Muskegon; Zeeland East hosts Jenison; Zeeland West is home to Black River; and Fennville entertains Lawrence.
***
In a Monday Night Football game you heard on 1450 WHTC, Tennessee defeated the visiting New York Jets, 14-10. Pro football action on Holland's Hometown Station this weekend finds the Lions home to Atlanta on Saturday at 7:30 PM, and the Jets hosting San Diego on Sunday, also at 7:30 PM.
***
Grand Valley State's basketball teams were swept out of Findlay last night. Greg Kahlig scored 14 points for the Oiler men in a 64-60 decision, while the host women won, 61-53, behind 19 points from Tai Dotson. The GVSU ladies return to action on December 29, welcoming Rochester to the Fieldhouse Arena in Allendale, while the men wait until January 3 before entertaining Walsh.
In state major college basketball last night: Detroit lost at Syracuse, 72-68, while Oakland beat Valparaiso, 70-68. This evening, Michigan travels to Bowling Green.
***
Jamal Crawford and Blake Griffin each scored 15 points last night, as the visiting Los Angeles Clippers handed the Pistons their fifth straight defeat, 88-76. Detroit visits Toronto tomorrow evening.
Mike Conley tossed in 17 points to lead Memphis past the visiting Bulls last night, 80-71. Chicago welcomes Boston to the United Center this evening.