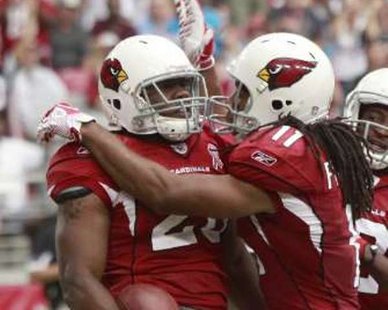 UNDATED (WHTC) - Beanie Wells ran for three touchdowns, while Arizona's defense picked off two Matthew Stafford passes for touchdowns, as the Cardinals on Sunday handed the visiting Lions their sixth straight loss, 38-10. Detroit hosts Atlanta on Saturday, with broadcast time on 1450 WHTC at 7:30 PM.
Aaron Rodgers threw three touchdown passes to James Jones, accounting for all of visiting Green Bay's points in Sunday's 21-13 victory over the Bears. Chicago travels to Arizona next Sunday.
Monday Night Football at 8 PM on 1450 WHTC has the New York Jets at Tennessee.
***
Grand Valley State sends both of its basketball teams out into action on Monday evening, facing the Oilers in Findlay.
In state major college basketball on Sunday, Western Michigan defeated High Point, 70-64, and Central Michigan won at Pepperdine, 80-77. On Monday evening, Detroit travels to Syracuse, attempting to prevent Orangemen Coach Jim Boeheim from his 800th career victory, while Oakland is home to Valparaiso.
***
High school basketball on Monday night along the Lakeshore finds a doubleheader at the Holland Civic Center, as Calvary's two teams take on Fruitport Calvary; Black River's boys entertain Freedom Christian; and West Ottawa's girls are home to Mona Shores.
***
NBA action on Monday evening finds the Detroit Pistons welcoming the LA Clippers to the Palace, and the Chicago Bulls traveling to Memphis.
***
Jussi Rynnas stopped 31 shots as Toronto blanked the visiting Griffins on Sunday, 5-0. It was Grand Rapids' second stright shutout loss. Rochester comes to Van Andel Arena on Wednesday night.