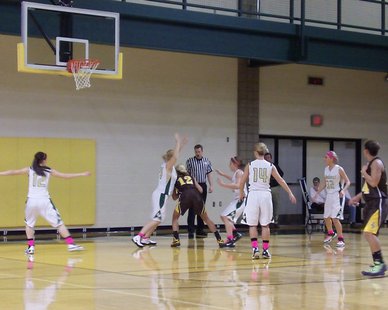 UNDATED (WHTC) - The second week of the high school boys' basketball season along the Lakeshore concludes this evening with a full slate of games. The Zeeland East-Holland Christian contest from the Holland Civic Center is on 1450 WHTC and http://whtc.com/listen-live/ at 6:40 PM. The Bloomingdale-Saugatuck match is on 92.7 The Van and http://927thevan.com/listen-live/ at 5:10 PM. Other action finds Holland at Grand Rapids Union; Zeeland West hosting Coopersvillle; Hamilton home to Middleville; Fennville visiting Gobles; Black River traveling to Algoma Christian; and Calvary at Freedom Christian.
Last night in high school girls' basketball, Black River won at Algoma Christian, 62-11. This evening, a podcast of the Bloomingdale at Saugatuck game will be posted overnight at http://927thevan.com/podcasts/whtc-wyvn-high-school-sports/. Other contests include Mona Shores at Holland, Zeeland East at Holland Christian; West Ottawa at Catholic Central; Coopersville at Zeeland West; Middleville at Hamilton; Fennville at Gobles; and Calvary at Freedom Christian.
***
With tests to end the first semester now over, Hope College hosts its Post Exam Jam women's basketball tournament at DeVos Fieldhouse this evening. Following the Kalamazoo versus Wisconsin-Whitewater contest, the Flying Dutch entertains Spring Arbor, with coverage on 92.7 The Van and http://927thevan.com/listen-live/ at 7:10 PM, following Saugatuck High basketball.
***
In a NFL game you heard on 1450 WHTC last night, Cincinnati won at Philadelphia, 34-13. Catch a pro football doubleheader on Holland's Hometown Station this Sunday, beginning at 3 PM with the Detroit Lions at Arizona, followed at 7:30 PM with San Francisco visiting New England.
***
NBA play this evening finds the Pistons taking on the Nets in Brooklyn. It is believed to be the first time any major league pro team from Detroit has played in that New York City borough, as the Tigers never faced the Dodgers there before "Dem Bums" moved to Los Angeles in 1958.
***
American Hockey League action tonight has the Griffins welcoming Peoria to Van Andel Arena.