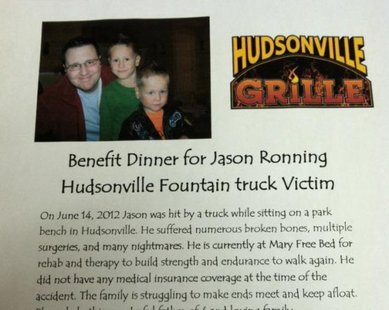 HUDSONVILLE, MI (WHTC) - A Hudsonville attorney seriously injured by a student driver is seeking some financial help.
Family and friends of Jason Ronning are arranging this evening's benefit dinner at the Hudsonville Grille, with proceeds from a special menu, along with 10 percent of tips and a special donation by the eatery off of 32nd Avenue near New Holland Street, to go towards the medical bills of the 34-year-old barrister.
Ronning was sitting on a bench outside of a store in the downtown Hudsonville shopping center on June 14th when a pickup drove over him, knocking him and the bench into a nearby fountain and pinning him. He was hospitalized for a dozen days with numerous broken bones and separations, and then spent three weeks at a rehab facility, all without health insurance from the Wyoming law firm that he is a partner in. Ronning hopes to return to practice by year's end.
The 16-year-old unlicensed driver, only identified as an exchange student from Germany, along with 18-year-old Cade Cronheim of Hudsonville, who was seated next to her steering the wheel at the time, are both facing various charges and have a preliminary hearing set for September 5th in Hudsonville District Court.