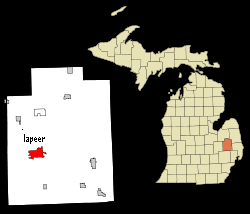 LAPEER (WKZO) -- Michigan is suddenly a richer place this weekend, first with all that Olympic gold coming in from London, and now with the wining ticket to the Powerball Lottery purchased by someone at a Michigan gas station. Lets just hope it wasn't someone passing through to Toledo or Indianpolis.
In the meantime in the town of Lapeer in Michigan's thumb the wait continues for the ticket purchaser to surface. It just happens to be "Lapeer Days" their three day summer festival in the sleepy town of 9,000 and the number one topic is of course, the lottery and speculating about who might have won it.
Folks are a little charged up, like having lightning strike close by. Lapeer Mayor William Sprague is happy because of all the reporters in town. He says they are doing okay, but could always use the boost in tourism the spotlight from the Lottery is bringing their way.
Meanwhile back at Lottery headquarters in Lansing they are getting ready to roll out the red carpet, call in the media. Spokesperson Andi Brancato says the fact that no one surfaced immediately is no surprise, they often advise big winners to seek tax advice before they assume the tax liability. They also have to decide whether to take the 337-million paid in installments or the 224-million dollar lump sum.
That's just the first three questions. With this much cash, it might be a good idea to have a team of advisors, a lawyer, an tax accountant and an auditor to watch the other two. If it's a lottery club, it just gets that much more complicated.
The State Lottery doesn't allow Powerball winners to remain anonymous, no matter how much they may want to. Brancato says it's for the credibility of the game. They have to demonstrate to all the millions that are buying tickets that there are actual winners, because most of them know first hand there are a lot more losers.
The wait goes on. The clerks at the Sunoco station where the ticket was sold have been bombarded by questions about who might have won it, but it's anybody's guess. Brancato says those clerks can expect to be busy for a while. The stores that sell winning jackpot tickets are usually besieged by ticket buyers who think that history might just repeat itself. It rarely does.In the meantime the wait continues, and the lucky winner has up to a year to cash in.