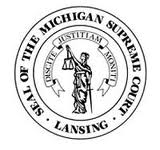 LANSING (WKZO) -- A Clinton Township woman lost her bid to hold the installers of an electric dryer accountable for an explosion that left her and her son with serious burns. The Michigan Supreme Court ruled the installers had no legal responsibility to tell Marcy Hill that there was an uncapped gas line in the home.
Hill had recently purchased the property and bought an electric dryer. She claimed the installers didn't warn her the line was open, cap it themselves and hid the problem behind the new dryer.
The high court vote against Hill was four to three.