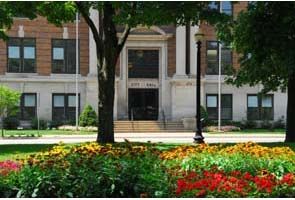 HOLLAND, MI (WHTC) - It was a Wednesday of mixed emotions for the family of the Holland teen who gained fame while attempting to sell hot dogs downtown from a cart last month.
Yesterday afternoon, Douglas Johnson was arraigned on one count of obtaining money under false pretenses in Grand Rapids District Court. The 47-year-old stepfather of Nathan Duszynski allegedly posed as a lawyer, although never holding a law degree. Investigators claim that he took a 15 hundred-dollar retainer from a Cedar Springs man, saying that, as a paralegal, he would represent him in federal proceedings, but never provided any services or appeared on his client's behalf in a court room. A warrant for Johnson's arrest has been outstanding since May 31st, and he's been jailed since surrendering at the Ottawa County Courthouse in Grand Haven on Monday. Currently held on 25 thousand dollars bond pending an August 27th preliminary hearing, Johnson could face life in prison as a repeat offender if convicted.
Last night, the Holland City Council ruled that Duszynski could resume his hot dog stand sales that had been stopped shortly after it began in the parking lot of a sporting goods store on River Avenue across from City Hall on July 17th. Officials say that the 13-year-old could operate on the sidewalk in front of the retailer through October, citing a provision in the city code that allows temporary commercial uses of public streets and sidewalks. Duszynski thought that he had cleared all of the legal hurdles earlier, but his cart stand had violated downtown commercial zoning ordinances, and Mayor Kurt Dykstra said last night that a task force will be set up to review all vending laws in the downtown district as a result of this situation.
Duszynski was attempting to help provide for his family, as his mother and stepfather are currently unemployed due to physical disability. Last week, he and his mother were forced to move into the Holland Rescue Mission's Family Hope campus due to indebtedness, while Douglas Johnson had been staying at a friend's pole barn, claiming that the shelter's ban on prescription medications for his MS condition prevented him from joining them.