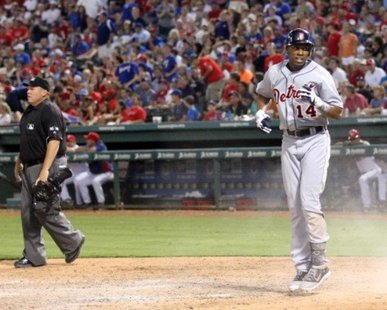 UNDATED (WHTC) - Prince Fielder's three-run homer highlighted a decisive four-run sixth inning rally, and Austin Jackson added an inside-the-park homer the following frame, as the Tigers won at Texas last night, 6-2. The series at Rangers Ballpark in Arlington continues this evening. Coverage on 1450 WHTC begins at 7:40 PM.
Todd Frazier collected three hits and drove in four runs, as visiting Cincinnati outscored the Cubs yesterday, 10-8. The series at Wrigley Field in Chicago continues this afternoon.
Jordan Danks' homer in the bottom of the ninth inning enabled the White Sox to edge visiting Oakland last night, 4-3. The series at US Cellular Field in Chicago continues this evening.
***
Lee Orr stroked a three-run homer, while Yeison Asencio added a homer and also drove in three runs, as Fort Wayne beat the visiting Whitecaps last night, 9-3. West Michigan hosts Bowling Green to open a three-game series at Fifth Third Ballpark this evening.
***
In exhibition football last night, visiting Cleveland rallied past the Lions, 19-17. Detroit is in Baltimore this coming Friday evening.