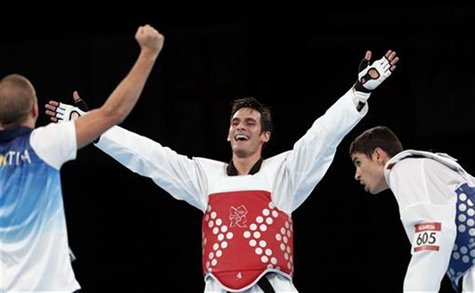 LONDON (Reuters) - Argentina's Sebastian Eduardo Crismanich won the men's welterweight taekwondo gold medal by beating Nicolas Garcia Hemme of Spain in the final at the London Games on Friday.
Crismanich, who won the Pan American qualifiers for London, beat Hemme 1-0 in a cagey final to win Argentina's first Olympic taekwondo medal. The Argentine scored the deciding point with seconds remaining then survived an onslaught to seal the gold.
Britain's Lutalo Muhammad, controversially selected in place of world number one Aaron Cook, lost to Hemme in the quarter-finals but made it through the repechage competition where he beat Armenia's Arman Yeremyan to win a bronze medal.
Italy's Mauro Sarmiento took the other bronze.
(Editing by Alison Williams)