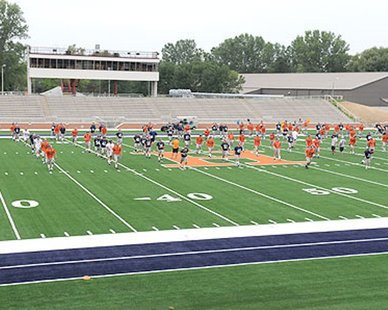 HOLLAND, MI (WHTC) - A new era in Hope College football began yesterday, when Coach Dean Kreps took his team through their pre-season practice paces at their "new" home.
No, the Flying Dutchmen aren't moving out of Holland Municipal Stadium, where they have been hosting games since 1979. In fact, the school is in the process of purchasing it from the City in a deal that would help maintain the facility.
However, yesterday's drills was the first for the Orange and Blue on the artificial "Field Turf" laid down earlier this summer. Funded by the school, the new surface replaces natural grass that had been affected by constant punishment from both Hope and Holland High players, as the Dutch also call the stadium home. A deal between the city, the college and the school district will allow Holland High to continue hosting its home games at the facility.
Holland City Council is going through the procedural steps for selling the stadium to Hope. The first games with the new surface are just before Labor Day, with Holland High hosting Forest Hills Central on August 30, followed by a September 1 contest between Hope and North Park.