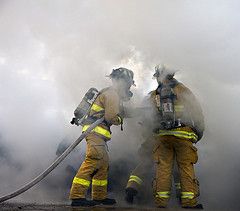 UNDATED (WHTC) - Firefighters in two Lakeshore communities had to battle blazes yesterday afternoon.
The first occurred in Pullman, as crews from several departments descended on that southern Allegan County community to battle a blaze that eventually burned down the San Miguel Market on 109th Avenue. The owner and employees inside when the fire broke out were able to escape safely, but the flames consumed the wood-framed structure. A definitive cause wasn't immediately determined, but investigators believe that the blaze may have started in the ceiling above the store's kitchen.
About two and a half hours after alarms for the market blaze sounded, Holland Township firefighters and Ottawa County Sheriff's Deputies were called to a field near 120th Avenue and Riley Street, where flames eventually consumed about two acres of grass and trees. Crews were able to bring the fire under control in about an hour, preventing it from spreading into a nearby mobile home park and subdivision.
Sheriff's Lieutenant Steve Kempker said that deputies were able to pinpoint the cause of the blaze. A 12-year-old child was apparently playing with matches in a field behind the mobile home complex and was able to flee safely when the flames became too strong.
There were no reports of any injuries suffered by firefighters in either incident, as investigations into both of those matters continue.