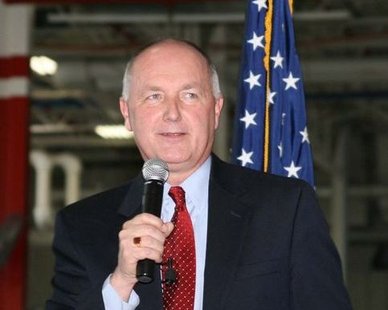 UNDATED (WHTC) - It was a banner night for Pete Hoekstra, while incumbents ruled the roost.
Those are the initial observations after yesterday's Primary Election along the Lakeshore and across the state. Despite a high-profile negative ad campaign run by a super PAC that supported Clark Durant, Hoekstra outdistanced the Detroit-area charter school magnate by around 54 percent of the vote to win the GOP nomination in the US Senate race. The one-time Holland Congressman now faces two-term incumbent Debbie Stabenow in the November 6th General Election; the Lansing Democrat had no primary opposition.
For the second time in three years, Fred Upton trounced one-time state lawmaker Jack Hoogendyk in the GOP primary for his Second US House District seat; the St. Joseph Republican, who seeks a 10th two-year term on Capitol Hill, now meets Democrat Mike O'Brien of Douglas in November.
In state House races: Incumbent Bob Genetski beat back Randy Brink in the GOP primary; the two-term Saugatuck Republican goes up against Democrat Stuart Peet of Shelbyville in November. Meanwhile, Roger Victory edged Amanda Van Essen by 88 votes in eastern Ottawa County to secure term-limited Dave Agema's legislative seat, as the Democrats have no candidate there on the November ballot.
The most contested local battle was for Ottawa County Drain Commissioner, as three Republicans were vying to replace the retiring Paul Geerlings. Joe Bush emerged the winner with 47 percent of the vote, holding off Mike Munch and Martha Urbin in a race that centered on the controversial Park West Drain project in Park Township. Allegan County's Drain Commissioner race wasn't as high-profile, but it was a tighter battle, as Denise Medemar with 31 percent held off John Brush, Gale Duggan and Timothy McKinnon, all of whom had more than 20 percent of the vote.
Due to redistricting, incumbent Terry Burns of Saugatuck Township and Dean Kapenga of Hamilton squared off for a single Allegan County Board seat; Kapenga defeated Burns with 53 percent of the vote. Challenger Jim Storey collected more votes out of four precincts in Holland than combined elsewhere, which enabled him to edge incumbent Steve McNeal of Fillmore Township by 45 votes. Other incumbent county commissioners such as Stu Visser of Park Township and Don Disselkoen of Holland emerged with convincing victories in contested primaries. For Saugatuck Township's board, the three-man Republican primary for two spots in the November ballot went to Jonathan Phillips and Roy McIlwaine, who edged out RJ Peterson.
The millage renewal questions on the ballot all passed, including Allegan County's road resurfacing and reconstruction proposal, library levies in Fennville and Olive Township, and a fire millage in Olive Township.
Turnout was typically low for an August primary, with around 20 percent of eligible voters in Ottawa County and 17 percent in Allegan County casting ballots.