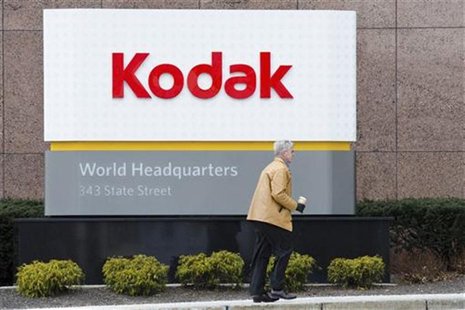 (Reuters) - Eastman Kodak received court approval on Monday from a bankruptcy court judge to spend about $13.5 million to try to keep a few hundred employees from leaving the company while it is in bankruptcy, a spokesman for the company confirmed.
The U.S. Trustee, Tracy Hope Davis, who works for the Department of Justice, had objected to the plan. In court papers she cited concerns the company had not adequately shown that none of the participants in the plan could be considered 'insiders' under bankruptcy law.
Kodak said it needed to make the payments to keep employees from leaving. Employee departures caused significant expenses and had increased the workload on remaining employees, Kodak said in court documents.
The plan includes payments to about 119 employees at the middle manager level and at least 200 other employees, according to these court documents. Some managers at non-U.S. units could also receive payments, the documents said.
Kodak filed for bankruptcy in January with plans for a restructuring that includes selling some non-core businesses and a large group of patents. It lost ground to competitors over the years as consumers switched to digital cameras from film.
U.S. Bankruptcy Court Judge Allan Gropper approved the motion during a hearing.
The case is in re: Eastman Kodak Co et al, U.S. Bankruptcy Court, Southern District of New York, No. 12-10202.
(Reporting by Caroline Humer in New York; editing by Andre Grenon)