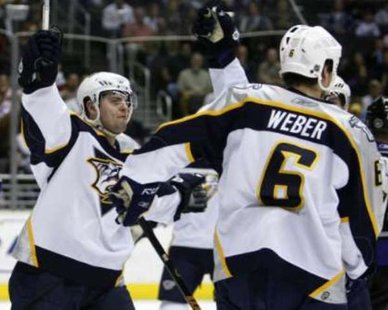 UNDATED (WHTC) - Rain postponed Friday night's scheduled Tigers' game against visitingTexas, meaning that the two teams will spend the entire day at Comerica Park in Detroit with a day-night doubleheader on Saturday. Hear all the action on 1450 WHTC, beginning at 12:40 for the afternoon contest, and 6:40 for the evening match.
Drew Stubbs drove in three runs as visiting Cincinnati beat the Cubs on Friday, 9-4. The two teams continue their series at Wrigley Field in Chicago on Saturday.
Adam Dunn homered twice and drove in five runs, powering the White Sox to a 7-3 victory at Seattle on Friday night. The series at Safeco Field continues on Saturday.
***
Visiting Wisconsin scored three runs in the fifth inning, and then added four more in the eighth, in defeating the Whitecaps on Friday night, 8-2. West Michigan looks to avoid being swept by the Timber Rattlers in the series finale at Fifth Third Ballpark on Saturday.
***
David Legwand's goal 13 seconds into the third period broke a 1-1 tie, and Nashville went on to eliminate the visiting Red Wings from the playoffs on Friday night, 2-1. Detroit lost the series in five games.
Phoenix looks to follow in the Predators' footsteps by finishing off the visiting Blackhawks on Saturday evening, as the Coyotes lead that playoff series, three games to one.
***
The Chicago Bulls welcome the Dallas Mavericks to the United Center on Saturday night.