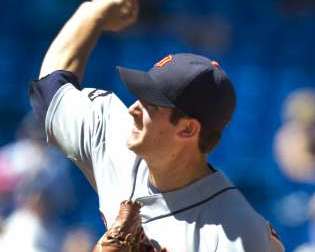 UNDATED (WHTC) - Rick Porcello scattered five hits and struck out four in nearly eight innings of work, as he pitched the Tigers to a 5-2 victory over the White Sox in Chicago on Sunday. On Monday night, while the Pale Hose welcome Baltimore to US Cellular Field, Detroit travels to Kansas City in a game that is on 1450 WHTC, starting at 7:45.
Matt Carpenter collected four hits, including a two-run homer, and drove in five runs, while Yadier Molina cracked a three-run round-tripper, as St. Louis beat the visiting Cubs on Sunday, 10-3. Chicago is off until playing the Marlins in Miami on Tuesday evening.
***
Kevin Patterson's homer in the eighth inning broke a 4-4 tie, and visiting Lansingedged the Whitecaps on Sunday, 5-4. West Michigan opens a series in suburban Cleveland against Lake County on Monday night.
***
Sergei Kostitsyn's goal with 3:30 left proved to be the game-winner, as visiting Nashville defeated the Red Wings on Sunday, 3-2. The Predators lead the playoff series, two games to one, with game four at Joe Louis Arena in Detroit on Tuesday evening.
***
Aaron Palushaj's goal with :43 left enabled Hamilton to defeat the visiting Griffins on Sunday, 3-2. Grand Rapids lost five of its last seven games to fall out of playoff consideration. While the parent Detroit Red Wings are lauded for 21 consecutive post-season appearances, the effects of the NHL's salary cap and Detroit's continued poor draft positioning because of its success can be seen in the struggles of the Griffins, it's top minor league affiliate. Grand Rapids has failed to make the playoffs in three straight seasons and four of the last five, mainly due to a lack of talent depth in the Detroit organization.
***
Derrick Rose tallied 24 points, while Joakim Noah added 20 with 17 rebounds, as the visiting Bulls outlasted the Pistons in overtime on Sunday night, 100-94. While Detroit awaits the arrival of Cleveland to the Palace on Tuesday evening, Chicago is back home at the United Center on Monday night, entertaining Washington.