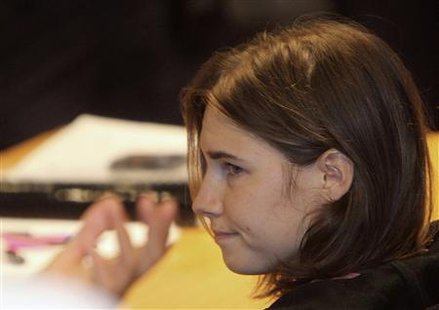 By Deepa Babington
PERUGIA, Italy (Reuters) - Italian prosecutors displayed gruesome crime scene photos on Friday in an attempt to keep American student Amanda Knox in jail for the murder of her British housemate during an alleged drug-fueled sex game.
The courtroom in the central Italian town of Perugia was packed for the final stages of Knox's appeal trial in a sensational case that has grabbed headlines in Italy, Britain and the United States.
Knox, 24, looked pale and nervous as she was ushered into a courtroom besieged by television cameras and curious onlookers in the historic university town where Meredith Kercher's half-naked body was found in a pool of blood in 2007.
Knox, who has been in jail for nearly four years, including the period before her first trial, was sentenced in 2009 to 26 years in prison and her Italian ex-boyfriend Raffaele Sollecito to 25 years for the murder.
Both say they are innocent, and maintain they were together at Sollecito's apartment the night of the murder.
Knox listened impassively as prosecutors began closing arguments by trying to take the focus off a forensic report that bolstered the Seattle native's case and implored the court not to be swayed by relentless media coverage of the saga.
"When you decide, I want you all to feel a bit like the parents of Meredith Kercher, a quiet and serious young woman whose life was cut short by these good kids from good families," prosecutor Giancarlo Costagliola told the court.
"There has been an almost obsessive media campaign from the press and television that has made all viewers feel a bit like the parents of Amanda and Raffaele, two youths from good families held in prison because of a dogged prosecution."
Knox's hopes of release were given a strong boost by an independent forensic report earlier this year that cast major doubt on DNA evidence used to convict her, and also cited bungling by police scientists.
But prosecutors rejected the conclusions of the forensic experts. The prosecution maintains DNA traces of Knox and Kercher were found on a knife identified as the murder weapon and that Sollecito's DNA was found on Kercher's bra clasp.
Even if the evidence on the knife and bra clasp was ignored, there was plenty else -- from Knox falsely accusing a Congolese-born bar owner to suspect footprints -- that pointed to her and Sollecito's guilt, prosecutors argued.
Reminding the panel of professional and lay judges of the gory crime, prosecutors showed pictures from the scene, including those of Kercher's wounds, after sending journalists and the public out of the courtroom.
Knox's stepfather, Chris Mellas, said Kercher's parents would have been horrified at the grisly photo display. "Showing those pictures today was absolutely pointless, it was like playing the emotional card or something, but it was unfortunate they had to be shown at all," Mellas told Reuters.
"DAILY STRUGGLE"
Prosecutors also showed a photo of Knox kissing Sollecito outside the house where the murder was committed, prompting her lawyer to object.
Prosecutor Giuliano Mignini, who has led the investigations into the murder from the beginning, at one point suggested Knox and her lawyers had used slander tactics similar to those used by Nazis in the 1930s.
Friday's hearing began with a rare appearance by Perugia's chief prosecutor to express support for the case against Knox.
A verdict is expected in the first few days of October after concluding arguments from both prosecution and defense, four years after the murder stunned Italy and shook Perugia's image as an idyllic student town in the Umbrian hills.
Knox's fresh-faced good looks and the gory sex-and-blood twists and turns in the case have riveted audiences in the United States, where Knox has been viewed by many as a victim of blundering Italian police and an unreliable justice system.
"Every day is a struggle for her, every day that she is locked up is horrible," said Knox's mother, Edda Mellas. "The appeal has gone great, you know, and that's great, but today you get to hear all the lies."
Others have portrayed the 24-year-old -- dubbed "Foxy Knoxy" in the press -- as a marijuana-smoking party girl who shopped for lingerie with her boyfriend days after the murder.
Knox has since become the subject of several novels and her story has even been made into a movie for U.S. television starring Hayden Panettiere, though lawyers for both Knox and the victim's family have tried to stop it.
If acquitted, both Knox and her ex-boyfriend would be freed immediately, said Carlo Fiorio, a professor of criminal procedure at the University of Perugia. They could also have their sentences confirmed, shortened or lengthened, he said.
Rudy Guede, an Ivorian drifter with a criminal record, was also sentenced in October 2008 to 30 years in jail for taking part in Kercher's murder, but that term was cut back to 16 years by an appeals court.
(Additional reporting by Hanna Rantala; Editing by Barry Moody and David Stamp)