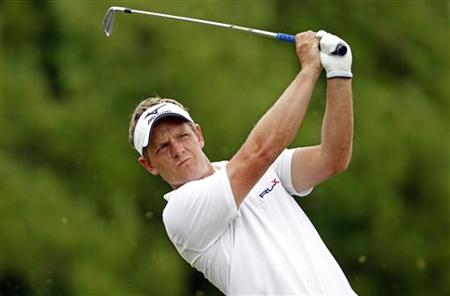 By Mark Lamport-Stokes
ATLANTA (Reuters) - World number one Luke Donald is spoilt for choice when it comes to incentives at this week's Tour Championship but he says the $10 million bonus for the overall FedExCup winner is not among them.
The Briton is much more interested in clinching his second PGA Tour victory of the season in a bid to secure Player of the Year honors on the U.S. circuit for the first time.
Donald lies fourth in the points standings going into the Tour's fourth and final playoff event and should he triumph at East Lake Golf Club on Sunday, he would also land the prestigious FedExCup.
"I'm not really thinking about the money," the 33-year-old Englishman told reporters on Tuesday while preparing for Thursday's opening round.
"I'm really more concentrating on winning the tournament, picking up another trophy, winning the FedExCup, hopefully winning Player of the Year that comes with it.
"Where I am in my career, I have been very fortunate. (I've won) $25 million or something. The money is really the last thing I'm thinking about."
Any of the top five in the standings would clinch the FedExCup by winning the Tour Championship, and Donald knows he is ideally placed for a final push.
"I'm in a great position," the Chicago-based professional said. "Top five is pretty important; it gives me a lot more control going into this week."
Donald, who lies second behind American Webb Simpson in the PGA Tour money list, believes victory at East Lake could also decide Player of the Year honors in what has proved to be a hotly contested race.
SWAYING MINDS
"A win this week would sway a lot of people's minds," he said. "No one has really dominated (a season) as much as when Tiger (Woods) was winning (multiple times).
"A couple of guys have won a few events, two events, but there's no clear-cut winner," Donald added. Six players have each won twice on the PGA Tour this season.
Donald has enjoyed a career-best year on both sides of the Atlantic, winning three tournaments and contending for the money list crowns on the PGA Tour and also the European Tour.
His only blemish has been his failure to claim a first major title.
"The number one goal at the beginning of this year was to try and compete, be in contention for majors," Donald said with a wry grin. "In that regards, it was somewhat disappointing.
"I had a chance in two of them, which was an improvement on previous years, but the other two weren't that great. The goal is always to try and peak for those events."
Donald tied for fourth at the Masters and shared eighth place at the PGA Championship but he labored to joint 45th at the U.S. Open while he missed the cut at the British Open.
"I'll look back at the end of this year and realize maybe I played a little bit too much leading up to the U.S. Open," he admitted. "I felt a little bit over-golfed.
"I'm always thinking about new ways to try and prepare and find the right scenario. I'm not sure if I've found it yet."
(Editing by Frank Pingue)