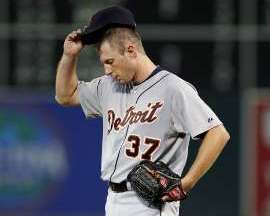 High school football resumes along the Lakeshore this evening. Hear the Zeeland West at Holland Christian game on 1450 WHTC and www.whtc.com at 6:40; the Saugatuck at Marcellus contest is on 92.7 The Van and www.927thevan.com at 6:40. Other games find Holland at Northview, West Ottawa at Rockford, Wyoming Park at Zeeland East, Wyoming Rogers at Hamilton, and Lawton at Fennville.
David DeJesus stroked a three-run homer in the first inning, and Oakland went on to beat the visiting Tigers last night, 6-1, ending Detroit's 12-game winning streak. However, with Cleveland's 7-4 loss earlier at Texas, the Bengals' magic number to clinch the American League Central is down to one. The series at the Coliseum in Oakland continues this evening. Hear the game on 1450 WHTC, starting at 9:40.
Jay Bruce's two-run homer in the bottom of the 11th inning enabled Cincinnati to overcome the visiting Cubs last night, 8-6. Chicago begins a weekend series against Houston at Wrigley Field this afternoon.
Billy Butler's three-run homer helped Kansas City knock off the visiting White Sox last night, 7-2. The series at Kauffman Stadium continues this evening.
Football action tomorrow finds Hope hosting Milliken, with broadcast time on 92.7 The Van and www.927thevan.com at 1:40. Sunday on 1450 WHTC, the Kansas City at Lions' game begins at 12 Noon, with the Philadelphia at Atlanta contest airing at 7:30.