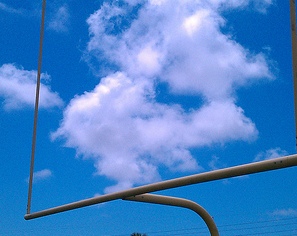 UNDATED (WHTC News) - The third week of high school football along the Lakeshore is tonight. Hear the Zeeland East-Zeeland West game on 1450 WHTC and www.whtc.com, starting at 6:40. Also at 6:40 on 92-7 The Van and www.927thevan.com, it's Watervliet at Saugatuck. Other action finds Holland at Greenville, Jenison at West Ottawa, Holland Christian at Wyoming Rogers, Hamilton at Byron Center, and Lawrence at Fennville.
Off yesterday, the Tigers are back in action this evening, as coverage of Detroit's game with Minnesota from Comerica Park is on 1450 WHTC after high school football. The Cubs were also idle last night, and face the Mets in New York this evening. Paul Konerko cracked a grand slam to highlight a seven-run seventh inning, as the White Sox routed visiting Cleveland last night, 8-1. The series at US Cellular Field in Chicagocontinues this evening.
A new NFL season began last night, and in a game you heard on 1450 WHTC, Green Bay defeated visiting New Orleans, 42-34. On Sunday, the Lions-Tampa Bay contest airs on Holland's Hometown Station at 12 Noon; the Bears host Atlanta; and the Dallas at New York Jets match is at 7:30 on 1450 WHTC.
College football tomorrow finds Hope home to Wisconsin Lutheran, with broadcast time on 92-7 The Van and www.927thevan.com at 1:10, and Grand Valley State visiting Hillsdale.