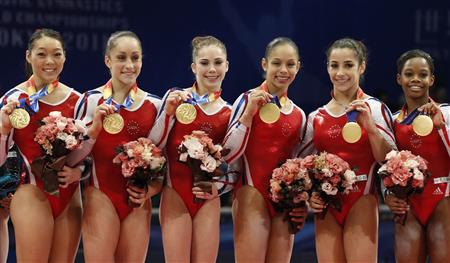 TOKYO (Reuters) - China captured a fifth successive title in the men's team event at the world gymnastics championships Wednesday, dashing host Japan's dreams of a first gold medal in 33 years.
The Beijing Olympic champions scored a winning total of 275.161 points to leave Japan (273.093) in second place again and the United States (273.083) with bronze.
Mistakes by Yusuke Tanaka and twice world champion Kohei Uchimura cost Japan dear after they topped qualifying.
"I'm very disappointed," said Uchimura, who stunned the crowd by misjudging a somersault above the high bar and came down with a thud.
"It goes to show if you make mistakes like that it will hurt you."
After looking ordinary by their standards in qualifying, China again did the business when it counted. They have now won every world title since 2003.
The Chinese, who have also won two of the last three Olympics, were third after qualifying, giving Japan hope of ending their long wait for a men's world title.
However, China powered away from their rivals with some electrifying displays on the high bar and floor exercise.
"We're strong on the bar so I didn't think we would make any mistakes," Zou Kai told reporters. "It was hard to get used to qualifying in third but we always aim for gold. We've written a new chapter in history."
(Reporting by Alastair Himmer; Editing by Clare Fallon)