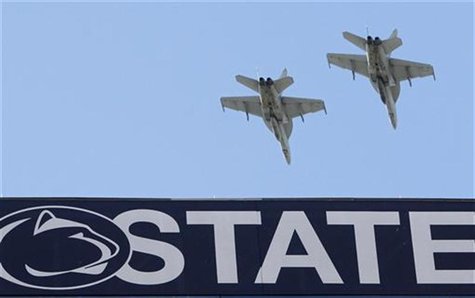 By Ian Simpson
STATE COLLEGE, Pa (Reuters) - Penn State University football players received special treatment compared to other students when accused of violating school rules, the school's ex-chief disciplinarian said on Tuesday.
Longtime football coach Joe Paterno and then-university President Graham Spanier were involved in years of debate that ended in changing the rules for how football players were disciplined, said Vicky Triponey, the vice president for student affairs from 2003 to 2007.
"The consequence of these accommodations put us in the position of treating football players more favorably than other students accused of violating the community standards as defined by the student code of conduct," Triponey said in a statement e-mailed to Reuters on Tuesday.
Her comments dealt another blow to a university and once-storied football program now reeling from allegations of child sexual abuse against a former assistance coach and an alleged cover-up.
Former assistant football coach Jerry Sandusky faces 40 counts of sexually molesting boys over a 15-year period. He was charged by a grand jury on November 5 and has denied any wrongdoing.
The case has stunned the prestigious university, the state of Pennsylvania and the world of college athletics, spawning a host of investigations as well as soul-searching among athletes, coaches, donors, parents and college officials.
Paterno, 84, the winningest coach in major college football, and Spanier were fired by trustees this month for failing to tell police about the allegations of sex abuse. The former athletic director and a top finance official face perjury charges in the case.
The scandal has raised concerns that a culture of special treatment for the football program under Paterno allowed Sandusky's alleged conduct to continue for years.
Spanier and Paterno made "suggestions, requests and at times demands" to change the process or soften punishment for players who had broken rules, said Triponey, who now heads special projects for a non-profit in Charleston, South Carolina.
A university spokesman was not immediately available to comment.
NEW CASES?
In a sign that the charges against Sandusky could expand, the Harrisburg Patriot-News reported that the state's Office for Chidren, Youth and Families had opened two cases of alleged child abuse against Sandusky.
The cases were reported less than 60 days ago and are still in the initial stages of investigation, the newspaper said.
If the cases are found to be credible, they would be the first known ones to be reported since Sandusky's arrest that involve current children, the Patriot-News said.
Spokesmen for the Department of Public Welfare and for the Pennsylvania attorney general's office declined to comment.
Sandusky's lawyer, Joe Amendola, told ABC News on Tuesday that he expected more charges could be filed against his client after the storm of publicity surrounding the case.
"My concern is if they bring new charges based upon new people coming forth, that bail's going to be set, and he's going to wind up in jail," he said.
COURT DATE CHANGED
Sandusky's preliminary hearing in Center County court was also moved back on Tuesday to December 13 from December 6, and the court's website cited "logistical needs" for the delay.
An avalanche of media is expected for the hearing in Bellefonte, Pennsylvania.
In a move related to the legal case, all of Center County's Court of Common Pleas judges recused themselves from the Sandusky trial, the Administrative Office of Pennsylvania courts said in a statement.
The recusals were aimed at avoiding any appearance of conflict of interest regarding Penn State, Sandusky or The Second Mile, the local charity Sandusky founded, it said.
Sandusky is alleged to have met all his victims through the charity, which he founded in 1977.
McKean County Senior Judge John Cleland, a former chairman of the Interbranch Commission on Juvenile Justice, will take over the case.
The December 13 preliminary hearing will be handled by an out-of-county jurist, Westmoreland County Senior District Judge Robert Scott. He replaced the district judge who set bail when Sandusky was arrested, Leslie Dutchcot of State College, who had ties to The Second Mile.
Also on Tuesday, the Penn State Nittany Lions' interim head coach, Tom Bradley, said he doubted talk that the football team could be kept out of a post-season bowl game this year because of the Sandusky scandal.
"I have not heard that from anybody," he told a news conference, adding that Penn State's acting President Rodney Erickson "has talked to people; that's not the case."
(Additional reporting by Harriet McLeod in Charleston, South Carolina and Dave Warner in Philadelphia, Editing by Peter Bohan)