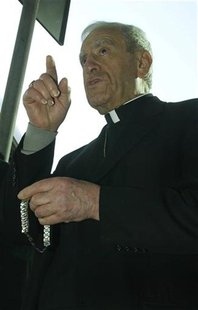 By Dave Warner
PHILADELPHIA (Reuters) - A Pennsylvania judge said on Friday she would interview retired Cardinal Anthony Bevilacqua to determine if he was competent to testify as a witness in a church sex abuse trial.
Bevilacqua, 88, is not a defendant in the rape cases against two priests, a defrocked priest and a former archdiocese school teacher, but whether he is well enough to testify has become a pivotal issue.
Common Pleas Court Judge M. Teresa Sarmina said she would talk to Bevilacqua in a closed hearing at his residence at the St. Charles Borromeo seminary on November 28.
She said she has gotten reports from experts on his condition but did not reveal the results and said she wanted to talk to him herself.
At a court hearing on Friday, she noted: "The law presumes that somebody is competent."
The alleged sexual abuse of children occurred while Bevilacqua led the archdiocese which, with 1.5 million Catholics, is the sixth biggest in the nation.
Child abuse controversies have rocked the Catholic Church in the United States in the last decade, and the church has paid out some $2 billion in settlements to victims, bankrupting a handful of dioceses.
A grand jury report released in January said Bevilacqua's attorney testified that the retired archbishop was suffering from dementia and cancer.
"We are not entirely sure what to believe on that point," the grand jury said in its report.
Sarmina said the issue was "mentally, his memory."
The judge's questioning, where she will be joined by attorneys for both sides, will be videotaped for possible use in a criminal trial against the five defendants next spring, four of whom face charges of rape including two priests, a defrocked priest and a former teacher.
The January grand jury, in reference to an earlier grand jury probe, wrote: "That abuse was known, tolerated and hidden by high church officials up to and including the cardinal himself."
The fifth person charged in the case, Monsignor William Lynn, was the secretary of the clergy under Bevilacqua. He is accused of endangering the welfare of children but does not face abuse charges.
(Editing by Ellen Wulfhorst and Cynthia Johnston)