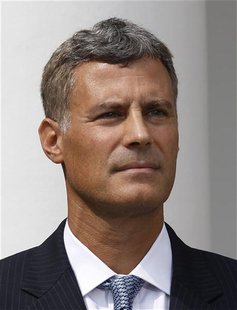 By Alister Bull
WASHINGTON (Reuters) - President Barack Obama's top economic adviser said on Tuesday that the European debt crisis was the leading risk to the U.S. recovery, underlining a threat to the president's re-election hopes in 2012.
Alan Krueger, chairman of the White House Council of Economic Advisers, also said that Obama's $447 billion jobs bill would provide insurance against another shock to the economy, which could rebound strongly if confidence improved.
"If you were going to make a list of downside risks to the economy, the sovereign debt issues in Europe, the banking issues in Europe, are at the top of everybody's list of identifiable threats," he told a Wall Street Journal CEO Council, in which he answered questions from corporate bosses.
The U.S. economy has been slowly gathering strength, and data released on Tuesday showing a broad rise in retail sales in October reinforced that view. But conditions remain fragile, as households and businesses slowly heal from a severe recession and financial collapse in 2008 and 2009.
As a result, Washington has pressed the euro zone to quickly implement a rescue plan for the common currency bloc's crisis, which if not resolved could tip the United States back into recession. Krueger repeated that warning.
"Clearly, Europe is a tremendous concern. I think that the Europeans have the capacity to solve their problems. It is important they act quickly, because it is a threat not only to Europe and the U.S., but the world as a whole," said Krueger, who was confirmed in his post by the U.S. Senate on November 3.
Obama has cautioned Europe was "scaring" the rest of the world, and his team has grown increasingly concerned that the failure of Europe's leaders to take politically painful action to finally stem the intractable crisis could do serious harm to the U.S. recovery and the president's political future.
Obama's approval rating has been trapped in the low- to mid-forties for months as economic worries mount, and he needs decisive evidence that the recovery is firmly on track to be confident of winning a second White House term.
EURO EXPORTS
"Twenty percent of our exports go to Europe -- 15 percent to the euro zone. One of the reasons I think the American Jobs Act is the right medicine now is to provide some insurance against a weakening in demand" from these trading partners, said Krueger, a former economics professor at Princeton University.
Obama aims to double U.S. exports by 2014, but this goal will be hard to meet if a euro zone collapse sends the dollar soaring against the common currency and strengthens it on foreign exchange markets as investors seek a safe haven -- but making U.S. exports more expensive.
U.S. growth has gradually improved during 2011 but the jobless rate remains at a lofty 9 percent, and Krueger said it was vital Congress pass the jobs bill Obama presented in September.
But lawmakers, locked in negotiations to curb the country's deficit by $1.2 trillion over 10 years, have not advanced key parts of the plan. Krueger urged them to at least pass an extension of a payroll tax cut and unemployment aid.
"Our problems are greatly magnified if the recovery weakens," he said. But the main parts of the jobs bill, if approved, will sustain growth long enough to convince companies the recovery was durable, he added.
"Corporate balance sheets are pretty strong. So it is conceivable that the business sector can help to fuel a much stronger recovery, if they feel that confidence is coming back on the part of consumers."
(Reporting by Alister Bull; editing by Doina Chiacu and Philip Barbara)