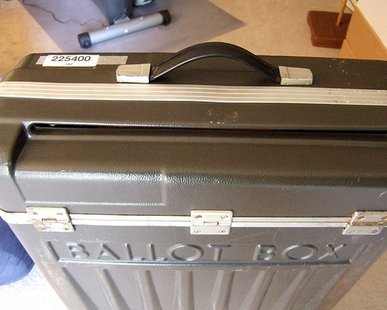 UNDATED (WHTC) - A race too close to call won't be recounted in Holland as a limited municipal General Election Day 2012 came to a close on Tuesday night.
The battle for an at-large City Council seat between Wayne Klomparens and Scott Troeger ended up as an 18-vote victory for Klomparens - 1096 to 1078, with 10 ballots for unnamed write ins. The 50.2% to 49.4% margin is one of the closest in recent Holland election memory. Despite the slim margin, Troeger told reporters that he wasn't planning to ask the Ottawa County Board of Canvassers for a recount. The spot was being vacated by Shawn Miller, who didn't wish to run for election after he was appointed in April to replace the departed Jerome Thomas-Kobes.
Incumbent Zeeland City Council members Allen Dannenberg and Sally Gruppen have retained their seats for another four-year term, with Dannenberg garnering the most votes at 668 (30%), followed by Gruppen at 645 (29.2%) and challenger Mary Beth Timmer at 634 (28.7%). Skyler Wilson failed to get on the panel, getting only 259 votes (12%). Kevin Klynstra ran unopposed and will become Zeeland's new mayor, replacing the retiring Les Hoogland.
In the race for two four-year Saugatuck Board of Education seats, incumbent Joan Lamb won reelection with 514 votes (43%), with Bernie Merkle (364 votes, 30%) edging fellow challenger Renee Zita (329 votes, 27%) for the other spot. Saugatuck City voters overwhelmingly approved five charter amendment questions by margins of 86%, 77%, 69%, 74% and 91%, respectively.
Around 12 percent of registered voters in Ottawa County went to the polls on Tuesday, with many communities not holding elections. No preliminary turnout figures were immediately disclosed by the Allegan County Clerk's office.