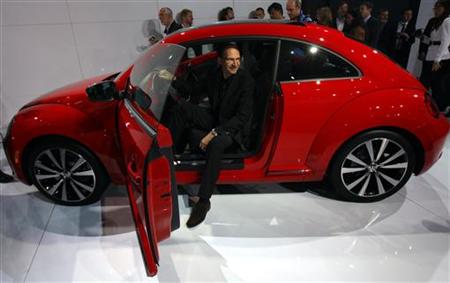 By Deepa Seetharaman
CHATTANOOGA, Tennessee (Reuters) - In south-central Tennessee on Tuesday, Volkswagen AG marks the grand opening of a $1 billion assembly plant that looms large in the German automaker's plan to unseat Toyota Motor Co as the world's largest automaker.
The plant, where Volkswagen is already building its 2012 Passat car, is a key part of the company's plan, which faces numerous hurdles and doubters within the auto industry.
By shifting production to the United States and using local parts suppliers, Volkswagen can guard against exchange rate fluctuations that can eat away at profit, analysts said. Building cars in the United States also allows the company to keep close track of changing tastes in the world's No.2 auto market, where consumer trends are often set.
Building a plant in the United States is also a sign of goodwill and demonstrates the company's dedication to the U.S. market, analysts said. As part of its global growth plans, Volkswagen aims to nearly triple its sales in the United States to 1 million in 2018 from about 360,000 in 2010.
It's a tall order for an automaker that has long been seen as a niche player, analysts said. Including its luxury brand Audi, Volkswagen ended 2010 with just a 3 percent market share in the United States, according to Autodata. By contrast, Toyota had about 15 percent, while GM had about 19 percent.
Adding to its challenges are the revamped vehicle lineups of the Detroit Big Three automakers -- General Motors Co, Ford Motor Co and Chrysler Group LLC -- as well as Korean companies Hyundai Motor and Kia.
"Most people don't think they can do all those things," Edmunds.com analyst Bill Visnic said. "There are a lot of headwinds. There are a lot of things that have to go right for Volkswagen to pull it off."
A FORCE FOR CHANGE
To its credit, Volkswagen, the company behind the iconic Beetle, has strong brand recognition in the United States, analysts said. Volkswagen's Super Bowl advertisement featuring a child dressed as Star Wars villain Darth Vader has been viewed more than 38 million times on YouTube.
"It has a generally good brand image and great brand awareness," Kelley Blue Book analyst Jack Nerad said. "What has stood in the way has been price."
Volkswagen has responded by cutting the prices of two models, the Passat and the Jetta. The 2012 Passat is priced at more than $7,000 below its predecessor and has far more interior room, a nod to American tastes.
It remains an open question how quickly U.S. consumers will notice the changes, or how they will be received, analysts said. Last month, Consumer Reports called the new Jetta "a shadow of the agile, well-finished car it once was."
Still, analysts said the lower price might be enough to lure some buyers to the showrooms.
The first Passat rolled off the assembly line in Chattanooga last month. Volkswagen announced in 2008 that it would build a new plant in Tennessee that would include body production, paint shop and assembly. Tennessee beat out Alabama and Michigan for the contract.
Barclays Capital estimates that labor costs at the Tennessee plant, including wages and benefits, will average $27 an hour, on par with the "Tier Two" workers that make up a small part of the Big Three's labor costs. Analysts said Volkswagen should still be able to attract top talent in the area because the wages are strong for the area.
At $27 an hour, Volkswagen's labor costs are well below those of both the Detroit Three and other foreign automakers. For example, Ford's labor costs are around $58 an hour including wages and benefits.
NO MORE WEAK SISTERS
Volkswagen's best-performing year in the United States was 1970, when it sold 569,696 vehicles and had a nearly 6 percent share of the U.S. market. Back when the Beetle was a top imported model sold in the United States, the company had a production plant in Pennsylvania. But by 1988, sales had slowed and the plant was closed.
The Tennessee plant is Volkswagen's first U.S. plant since 1988. Passat production at the plant is scheduled to rise to 150,000 annually by 2012.
On an annualized basis, U.S. sales as of April were 13.17 million units, and many analysts predict that sales in the United States this year will be 13 million or higher. Some analysts project vehicle sales will jump to 15 million in 2012.
This growth comes at a time when General Motors, Ford and Chrysler are offering more attractive and fuel-efficient vehicles. GM and Ford enjoy a well-liked stable of small and mid-sized cars including the Chevrolet Cruze and the Ford Fusion.
"There was a time when there were some weak sisters out there," Kelley Blue Book's Nerad said. "There's not that many car companies out there that are providing weak products in that segment. And those that do, don't have much share."
The Cruze was the No.6 best-selling car in April, according to Autodata. The Toyota Camry was No.2, while Honda's Accord was No.5 and the Civic was No.6.
"You don't suddenly unseat the Accord and the Camry just because you have a new product," Visnic said. "It's going to take a while for Americans to understand what VW is up to right now."
(Reporting by Deepa Seetharaman; Editing by Matt Driskill)