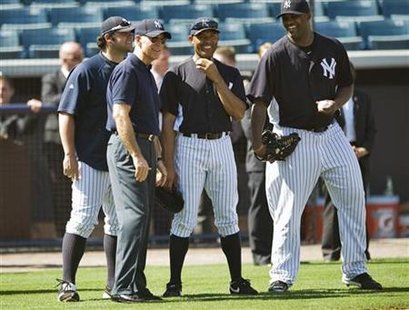 By Larry Fine
NEW YORK (Reuters) - Curtis Granderson and Mark Teixeira each blasted home runs to power the New York Yankees to a 6-3 victory over the Detroit Tigers Thursday to open the 2011 Major League Baseball season in emphatic style.
Opening Day featured the usual pomp and festivities on a frigid, overcast day at Yankee Stadium with the introduction of the teams and a flyover by military jets.
There was also a somber tribute to victims of Japan's earthquake before the first pitch from CC Sabathia launched the six-month-long campaign.
Granderson, who had been questionable to start the season because of a strained muscle in his side, made it a grand opening for the Yankees by hammering a fastball into the second deck in right for a solo homer that snapped a 3-3 tie in the seventh inning.
The center fielder also made two spectacular catches to rob Tiger batters and snared a long shot by Brandon Inge when he sprinted for a reaching grab in the ninth.
"He had an outstanding game," Yankees manager Joe Girardi said.
Granderson's great performance came against his former team, who traded him to New York in 2009.
"Against old team mates, old friends," said the 30-year-old outfielder.
"That we get to start the season against them is kind of ironic.
"It's not more significant than any other win, but got to get that first win out of 162 games."
Detroit had six hits, while the Yankees had just five, but New York made their's count, with Teixeira clouting a three-run homer in the third inning to warm-up up the crowd of 48,000.
"The long ball just ended up beating us today," said Tigers manager Jim Leyland.
Sabathia, who struck out seven batters, and Detroit starter Justin Verlander, who fanned eight, both threw over 100 pitches and gave way to relievers with the score tied 3-3, and the Yankee bullpen won that battle.
New York reliever Joba Chamberlain notched the victory, followed to the mound by New York's one-two bullpen punch of Rafael Soriano and Mariano Rivera, who posted the save striking out Alex Avila to end the game.
Former Yankee Phil Coke, part of the trade for Granderson, yielded the go-ahead homer and took the loss.
Tigers slugger Miguel Cabrera scored two runs and drove in another, and Brandon Inge had two hits and an RBI for Detroit.
Granderson said he did not know if he would be joining the team for the opener until he was cleared after testing his fitness in a minor league game in Florida on Wednesday.
He passed another quick test in the first inning when he made a headlong dive to grab a line drive hit by Will Rhymes.
"It didn't bother me," said Granderson, who underwent heat treatment following the game. "I got up and was able to go."
(Additional reporting by Daniel Trotta)
(Reporting by Larry Fine, Editing by Frank Pingue)