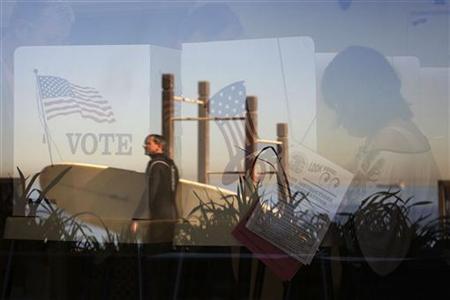 By Jim Christie
SACRAMENTO, California (Reuters) - More California voters believe public employees' pension benefits are too generous than they did two years ago and a majority support steps to rein in their costs, according to survey results released on Thursday.
At the same time, California voters oppose -- by a margin of 50 percent to 42 percent -- linking efforts to tackle the state's budget gap with legislation that would take away some collective bargaining rights of most public employees.
A similar effort in Wisconsin sparked massive protests by government employees that for several weeks dominated headlines regarding the wobbly finances of state governments, an issue lawmakers in Washington are closely watching.
A bill aimed at public employees' collective bargaining rights has been introduced by a Republican lawmaker in California, but even his staff concedes it will be shelved by Democrats who control the state's Legislature and who are allies of the state's labor movement.
Some changes to the pension packages of state employees may, however, spring from talks between Democratic Governor Jerry Brown and Republican lawmakers who are pressing for an overhaul of pensions.
Separately, Brown has been in contract talks with some state employee bargaining units to have their members pay more toward retirement accounts to ease the state's pensions costs.
Local governments across California, the most populous U.S. state, have also been seeking higher personal contributions to pension accounts from their work forces.
TIMES HAVE CHANGED
The report on the survey by the University of California, Berkeley, and The Field Poll noted that as recently as two years ago, a Field Poll survey found 40 percent of California voters believed the pension benefits that most state and local government workers received were at about the right level.
That compared with 32 percent who viewed the benefits as being too generous, and 16 percent who felt they were not generous enough.
"Today attitudes have changed," the report said, noting that 42 percent of voters now believe public workers' pensions benefits are too generous, 34 percent believe they are about right, 14 percent feel they are not generous enough and 10 percent have no opinion.
The survey also found that 73 percent of voters support the idea of establishing an upper limit or salary cap when calculating pension benefits for public employees.
Additionally, 69 percent support requiring public workers to pay more for their pension and health care benefits and 60 percent approve of increasing the minimum age at which public employees can receive pension benefits.
Fifty-six percent of voters support replacing the current public pension system with one that would combine 401(k)-style benefits and reduce guaranteed retirement payments.
Additionally, 52 percent of voters support reducing retirement benefits for new public employees. The same percentage favors giving government employers legal authority to modify pension agreements for current employees.
"There is strong negative reaction to a proposal to pass a temporary tax increase dedicated to building up the necessary funds for paying the pension and other retirement benefits owed to public employees," the report said, noting that 67 percent disapprove of the idea.
UC Berkeley and The Field Poll conducted its survey from February 28 through March 14 with a random sample of 898 registered voters in California interviewed by telephone in English and Spanish. The sampling error estimated for results based on overall registered voters is plus or minus 3.4 percentage points at the 95 percent confidence level.
(Reporting by Jim Christie; Editing by Jan Paschal)