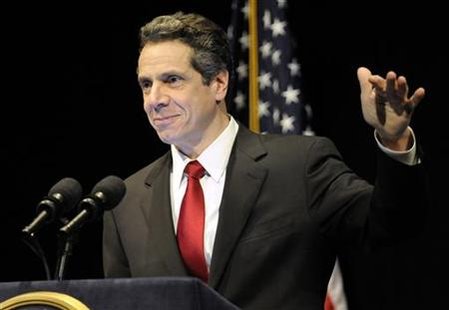 NEW YORK (Reuters) - New York Governor Andrew Cuomo's budget plan gives some of his commissioners "unfettered power" to cut the Medicaid program and close upstate prisons, the state comptroller said in a report on Tuesday.
But the legislature may balk at enacting these bills as it is "the very entity that would be relinquishing significant policy-making," Comptroller Thomas DiNapoli's report said.
The comptroller, in his analysis of Cuomo's budget plan and amendments, identified other hitches, from "undefined" savings to a possible revenue shortfall of $433 million in the current budget that ends on March 31.
However, the freshman governor might have an ace in the hole when it comes to persuading the legislature to grant his commissioners unusually broad powers.
If Cuomo and the legislature do not agree on a $132.9 billion budget by the April 1 deadline, he could follow the pioneering strategy employed by his predecessor.
Former Governor David Paterson inserted most of his budget plan into temporary spending bills needed to keep the government open. This forced lawmakers to choose between enacting his plan or shutting the government down; they opted for the former.
Explaining the governor's powers in this area, DiNapoli said: "The legislature would be unable to delete or revise the language in the emergency spending bills unless the deletions or revisions were agreed to by the Executive."
The Democratic-controlled Assembly and the Republican-led Senate have issued their own budget plans, which mainly try to restore some of Cuomo's deep cuts to education and Medicaid, the state-federal health plan for the impoverished, elderly and disabled.
Cuomo's budget plan cuts Medicaid by $2.3 billion, but $662 million of these recommendations previously were spurned by the legislature, DiNapoli said, including caps on medical malpractice awards.
The healthcare industry has yet to identify $640 million of savings included in Cuomo's plan. If they fail to do so, the Commissioner of Health and the Division of Budget would gain the authority to make the cuts needed to limit the state's share of the program to $15.1 billion a year.
(Reporting by Joan Gralla; Editing by James Dalgleish)