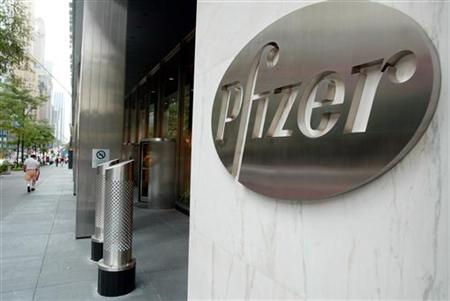 By Bill Berkrot and Ransdell Pierson
NEW YORK (Reuters) - A blood thinner developed by Bristol-Myers Squibb Co and Pfizer Inc proved superior to and safer than warfarin in preventing strokes in patients with dangerously irregular heart rhythms in a key clinical trial, greatly boosting its sales potential.
Shares of both companies rose on the highly anticipated data from the late-stage study of apixaban, a pill the drugmakers hope to sell under the brand name Eliquis.
Apixaban needed to show only non-inferiority to warfarin in stroke prevention to meet the primary goal of the Phase III trial.
Instead, it showed superior efficacy to warfarin in patients with atrial fibrillation, according to initial data from the study released on Wednesday by the companies. This should help the drug compete with a pair of new rival oral treatments in the highly lucrative market for millions of patients with the heart disorder.
"At first blush, it's a home run for apixaban. It looks better than the other two drugs," said Barclays Capital analyst Tony Butler.
Apixaban will compete with Pradaxa, an already approved drug from Boehringer Ingelheim, and Xarelto, a drug developed by Bayer and Johnson & Johnson that is awaiting U.S. approval.
The Bristol-Myers drug also showed superiority on a key safety measure by causing fewer incidents of major bleeding than warfarin. But the companies did not reveal important overall bleeding data.
"I was optimistic on superior bleeding, which they got. To add to that superior efficacy is stunning," said Trevor Polischuk, a partner at New York investment firm OrbiMed Advisors.
"This sets this drug up to be market leader, in what has been a massive race to get the best drug to market," Polischuk added.
Each of the new medicines had been deemed to have annual sales potential of more than $2 billion, analysts have said.
"Potential sales of apixaban have at least doubled. My new number is $5 billion a year," Polischuk said, adding that details of the study were needed to understand its full potential.
Full details of the study will be presented on August 28 at a major medical meeting in Europe. The companies said they expect to submit applications seeking U.S. and European approval in the third or fourth quarter of this year.
Bristol-Myers shares rose 7.3 percent to $29.78 in extended trading from their New York Stock Exchange close at $27.74, while Pfizer shares rose 3.9 percent to $21.06 from a close at $20.28 on the NYSE.
(Reporting by Bill Berkrot and Ransdell Pierson)