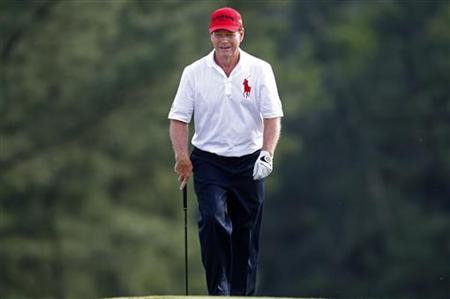 By Mark Lamport-Stokes
DUBLIN, Ohio (Reuters) - Eight-times major winner Tom Watson has been selected as the honoree of next year's Memorial tournament, organizers said Sunday.
Watson, a long-time friend of tournament host Jack Nicklaus, won the Memorial title in 1979 and 1996.
His 1996 victory featured a second-round 69 at Muirfield Village in cold and blustery conditions which he described as "one of the best, most satisfying rounds I've ever played."
Watson was also a rival of Nicklaus on the golf course and their names will forever be linked by their unforgettable 'Duel in the Sun' in the 1977 British Open at Turnberry.
The American duo memorably dueled for the coveted claret jug while playing together for the last two rounds. Watson shot 65-65 to edge Nicklaus, who carded 65-66, by one stroke.
Remarkably, Watson came agonizingly close to winning a sixth British Open title at Turnberry in 2009 when, aged 59, he lost a four-hole playoff to compatriot Stewart Cink.
(Editing by Julian Linden)