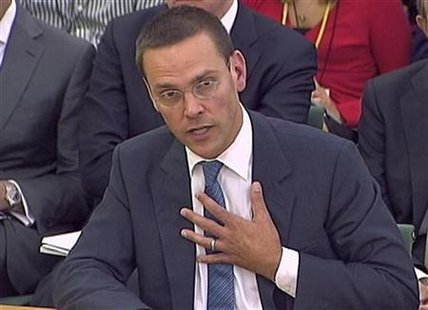 By Tim Castle
LONDON (Reuters) - British lawmakers said on Friday it was likely they would recall News Corp's James Murdoch to clarify evidence on phone hacking he gave to a parliamentary committee following claims his testimony was "mistaken."
Parliament's Culture, Media and Sport Committee said it would write to Murdoch to ask for more details about evidence he gave earlier this month about hacking allegations at the News of the World tabloid that has shaken his father Rupert's media empire.
The two Murdochs, along with former News International chief executive Rebekah Brooks, appeared before the committee on July 19 when they were pressed about phone-hacking and payments to police by News of the World reporters.
"We are going to write to ask for further details on areas where evidence is disputed," said the committee's chairman John Whittingdale.
James Murdoch has already told the lawmakers he stands by his testimony in a letter dated July 22 and released by the committee on Friday.
While the committee voted against immediately recalling Murdoch, chairman of British newspaper arm News International, Whittingdale said it was likely he would be recalled at a later date over claims some of his original testimony was wrong.
Tom Crone, News International's former top legal officer, and Colin Myler, editor of the News of the World until it was shut down earlier this month, have disputed some of James Murdoch's evidence.
Murdoch said he had not been in possession of all the facts when he approved a large payout in 2008 to English soccer executive Gordon Taylor, one of the phone-hacking victims.
But in a statement, Myler and Crone said they had told him of a 2005 email which suggested phone hacking at the tabloid was more widespread than a single "rogue reporter," as News Corp had until recently maintained.
The paper's royal reporter Clive Goodman and private detective Glenn Mulcaire were jailed in 2007 for intercepting the voice messages of royal aides.
Whittingdale said the statement had "raised questions over some of the evidence that we have received" and they would also be contacting Crone and Myler.
ORAL EVIDENCE
"If they come up with statements which are quite plainly different to those given to the committee by James Murdoch, we will want to hear James Murdoch's response to that, and chances are that may well involve oral evidence again as well," he said.
Lawyers Harbottle and Lewis, who have also faced criticism over their role in an internal News International investigation into phone hacking in 2007, will also be asked by the committee for details of their work.
Later, Mulcaire issued a statement through his lawyer saying he was not acting on his own initiative when intercepting phone messages while in the pay of the newspaper.
"He (Mulcaire) was effectively employed by News of the World from 2002 to carry out his role as a private investigator ... he admits that his role did include phone hacking," the statement said.
"As an employee he acted on the instructions of others.
Any suggestion that he acted in such matters unilaterally is untrue," the statement added.
Allegations of hacking at News Corp's British newspapers, in particular reports that journalists accessed the voicemails of murder victims, have triggered a judicial inquiry and calls from some politicians to cap News Corp's media ownership.
It has already led to News Corp dropping its $12 billion bid for the 61 percent of pay-TV broadcaster BSkyB it does not own and put James Murdoch's position in the spotlight.
The board of BSkyB, which reported a better-than-expected 16 percent jump in full-year revenue to almost 6.6 billion pounds on Friday, voted unanimously on Thursday to keep James Murdoch as its chairman.
However some politicians are keen to keep up the pressure on News Corp and James Murdoch in particular.
"It's my view that Murdoch, Crone and Myler should have been invited today," said Labour lawmaker and Culture, Media and Sport Committee member Tom Watson.
"I understand from the decision we took that when we receive the evidence, no later than August 11, we are meeting the week after that to decide whether to invite them at that point."
Rupert Murdoch described his appearance before the committee as the "most humble day of my life." The 80-year-old's testimony was interrupted when a British protester threw a plate of foam at him during the hearing.
The attacker, Jonathan May-Bowles, a comedian who uses the name Jonnie Marbles, pleaded guilty to causing harassment, alarm or distress on Friday. [nL6E7IT0TF]
The phone-hacking scandal has barely been out of the headlines since it erupted at the start of the month and has engulfed the British establishment.
Baroness Buscombe, the head of the newspaper watchdog, the Press Complaints Commission, which has been heavily criticized for failing to address the issue, became the latest person to step down in the wake of the furor.
London's police chief Paul Stephenson and John Yates, Britain's most senior counter-terrorism officer, have already been forced to quit.
(Writing by Michael Holden and Tim Castle, Editing by Sonya Hepinstall)