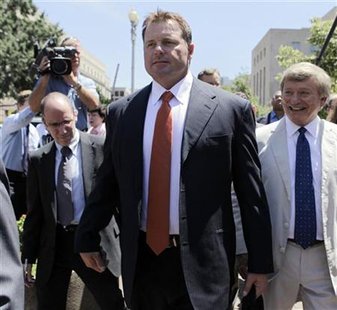 By James Vicini
WASHINGTON (Reuters) - Attorneys for baseball pitching great Roger Clemens urged a federal judge on Friday to dismiss the perjury charges against him and said prosecutor misconduct should prevent another trial.
They said a another prosecution would violate his constitutional right against double jeopardy, which protects against being tried twice for the same charges. Clemens is accused of lying to Congress when he denied taking performance-enhancing drugs.
"The government had its day in court and squandered it with misconduct that irretrievably wasted time, money and the opportunity for a one-time fair resolution of these charges for all involved," Clemens' attorneys said in a 34-page filing.
They said the prosecutors should not be rewarded with a second chance in which they can improve their jury selection, hone their trial strategy and tackle issues that the defense had raised in opening arguments during the first trial.
A mistrial was declared on July 14 when the lead prosecutor in the case gave jurors information that had been barred from the courtroom by the judge presiding over the case.
The prosecutor introducing material in a video that appeared to bolster the credibility of a future witness, Clemens' former teammate Andy Pettitte, and referred to Pettitte's wife, Laura, saying she had been told Clemens used human growth hormone.
The mistrial was a embarrassing setback for the U.S. government prosecutors, who had spent more than a year preparing the case and were in their second day of presenting evidence.
Clemens, 48, whose career spanned 24 years playing for four teams and winning the Cy Young Award for best pitcher seven times, had been charged with lying to Congress in 2008 when he denied taking steroids and human growth hormones.
Prosecutors are expected to reply to the defense request in several weeks and the judge has set a hearing on September 2 to consider whether Clemens can be tried again.
Defense attorneys said the prosecutor also violated the judge's order in his opening statement by referring to certain other players who took steroids, all of which the judge had ruled inadmissible.
"The government repeatedly engaged in misconduct despite admonitions from the court," they said, adding that the prosecutors intended to provoke a mistrial after suffering a number of setbacks that cast doubt on their case.
They said the prosecutors intended to "goad" the defense into asking the judge "to start the trial over from scratch."
Clemens could face a maximum penalty of 30 years in prison if convicted, though sentencing guidelines call for up to 21 months.
(Reporting by James Vicini)