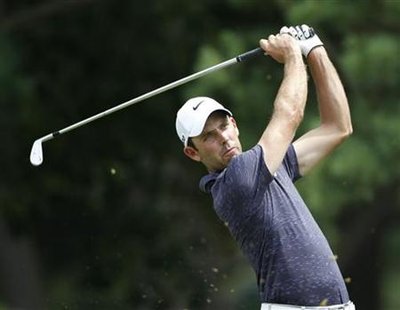 By Mitch Phillips
SANDWICH, England (Reuters) - Last time Charl Schwartzel saw his name on the Royal St George's leaderboard it gave him the fright of his life and the 18-year-old appearing in the first round of his first major tournament soon slid back into oblivion and missed the cut.
Eight years on he returns to the British Open course on the south-east corner of England as the U.S. Masters champion and hoping to trouble the scoreboard operators for a little longer.
"I've got very good memories of the course," the South African told a news conference on Tuesday.
"It was my first British Open and I think after three holes I got such a fright when I saw my name on the leaderboard, that was all I can actually remember.
"After those three holes it's a bit of a blur," added the 26-year-old, who went on to card an opening 78 then followed up with a 77 to miss the cut in the tournament eventually won by American outsider Ben Curtis.
Schwartzel had developed a taste for the Kent links the previous year when he won the amateur Brabazon Trophy on the adjacent Royal Cinque Ports course.
"My manager Matt actually caddied for me when I played Royal Cinque Ports and won the Brabazon and I think the wind was actually a bit stronger than it was today," he said.
"I remember it was bad conditions back then and the two courses are pretty similar. Eight years later I think I'm a bit more mature and understand the game a bit better."
After his initial three-hole moment in the limelight, Schwartzel has racked up a pretty awful record in the Open, making the weekend only twice and with last year's tie for 14th his best finish.
LONG ODDS
Local bookmakers were obviously swayed more by that than his Masters win and ninth-place finish in last month's U.S. Open and some were offering odds as long as 50-1 against him winning on Sunday.
Unsurprisingly, Schwartzel was unconcerned.
"In a way I've always liked playing as the underdog and then surprising people," he said. "I'm out here to give it my best and whether my odds are 200-1 or 12-1, it doesn't make any difference to me.
"I'm really looking forward to this Open. It would be nice to win that Claret Jug."
Schwartzel decided to stay in South Africa to prepare for the tournament, guessing that a Johannesburg winter would be better that a Scottish Highlands summer.
He proved a prescient judge after last week's Scottish Open was cut to 54 holes by a deluge that caused widespread flooding and even landslides in its first year there since being moved from Loch Lomond.
"I guessed the weather was going to be bad. I just figured moving the Scottish Open further north into Scotland it can't get any better going further north," he said.
"I've heard too many times in my life, especially in Ireland, where we would arrive at a tournament and the locals would go, 'you won't believe how good the weather was last week'.
"So I've had three weeks off down in South Africa. It's pretty cold right now but we get clear days and with a bit of wind I figured it would be pretty good practice, which it was.
"The courses are dry so I could really prepare for the way that these courses would play -- very, very dry. I guess we'll see how it works out."
(Editing by Tony Jimenez)