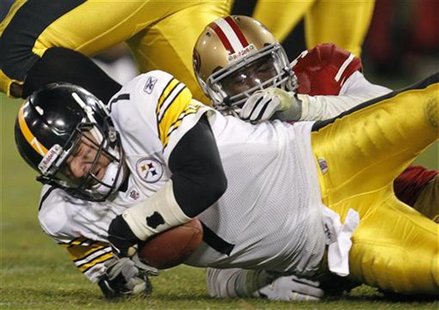 (Reuters) - Pittsburgh Steelers quarterback Ben Roethlisberger expects to play in Sunday's regular season finale against the Cleveland Browns, as long as he can cope with the pain in his sprained left ankle.
The former Pro-Bowl selection suffered the injury on December 8 in Pittsburgh's most recent game against the Browns and he missed Saturday's crushing 27-0 victory over the struggling St. Louis Rams.
"As long as I can deal with pain, I'll be out there," Roethlisberger told reporters after a practice session on Thursday. "I don't want to let the guys down, so I'll do what I can to be out there.
"I'd like to play just because I like being out there. It would be nice to get another week of rest, but I prefer to play."
Asked how the ankle had responded after two straight days of training, Roethlisberger replied: "It's a little sore today because I worked out on it yesterday. We will see how tomorrow goes and keep plugging away."
Steelers offensive coordinator Bruce Arians was impressed by Roethlisberger's improved mobility.
"He moved around good today, even better than yesterday," Arians said. "I want him out there (on Sunday) but not at the risk of injuring himself.
"If he can't move around and get out of the way, then there's no sense of getting him out there. We will play him if he's healthy and ready to go."
The Steelers (11-4), last season's Super Bowl runners-up, are already in the playoffs and so will likely be cautious over any players with injuries.
However, Pittsburgh can win the AFC North and claim top seeding in the conference if they beat the Browns on Sunday while the Baltimore Ravens and New England Patriots each lose.
"You'd like to have everybody out there because of the value of the game and we want our best players out there playing well," said Arians.
Charlie Batch threw for 208 yards in a solid performance in place of Roethlisberger against the Rams and the 37-year-old is again on stand-by for the Browns game.
(Reporting by Mark Lamport-Stokes in Los Angeles; Editing by Nick Mulvenney)