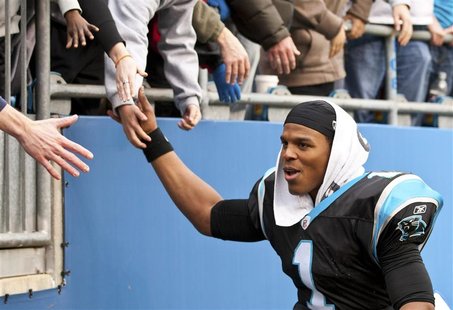 (Reuters) - Carolina Panthers quarterback Cam Newton broke Peyton Manning's National Football League (NFL) record for the most passing yards in a rookie season on Saturday.
The 22-year-old Newton surpassed Manning's record of 3,379 yards, set in 1998, in his team's 48-16 win over the Tampa Bay Buccaneers in Charlotte.
Newton started Saturday's penultimate round of the regular season needing just 18 more yards to eclipse Manning's mark and wasted little time setting another record, leading the Panthers on an 80-yard touchdown drive on their first possession.
He threw three touchdown passes and ran for another score, extending to 14 his record of rushing touchdowns by a quarterback in a single season.
Newton was earmarked for greatness after winning last season's Heisman Trophy as the outstanding player in College Football and leading Auburn University to a national championship.
He was selected by the Panthers as the first overall pick in the 2011 NFL Draft and celebrated his debut by becoming the first quarterback to throw for 400 yards in his first appearance in the NFL.
(Reporting by Julian Linden in New York; Editing by Mark Lamport-Stokes)