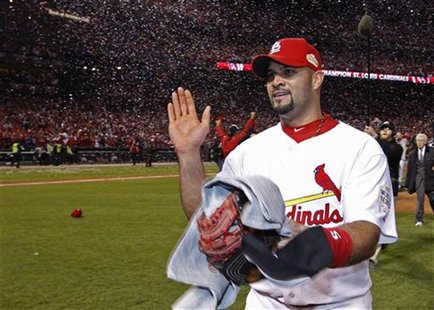 (Reuters) - The Miami Marlins have offered free agent Albert Pujols a monster ten year deal worth more than $200 million, Major League Baseball's MLB.com reported on Tuesday.
First baseman Pujols, who was a key part of the St. Louis Cardinals team that won the World Series, was also offered a nine year deal, reportedly worth $195 million, to remain with the Cardinals.
Pujols, who turns 32 in January, is the biggest name in the free agent market - a nine-times All Star, two times World Series champion and three-times National League MVP.
The report said Marlins officials, currently in Dallas for the league's winter meetings, held a 75 minute meeting with Pujols' agent Dan Lozano following talks on Monday.
The traditionally low-budget Marlins are spending big this off-season as they look to assemble a top roster for new manager Ozzie Guillen who will lead the team in their first season at their new downtown Miami ballpark.
On Monday, the Marlins reached an agreement on a six-year deal with former New York Mets All-Star shortstop Jose Reyes and they also officially announced the signing of a three year deal with All-Star reliever Heath Bell.
(Written by Simon Evans in Miami; Editing by Julian Linden)