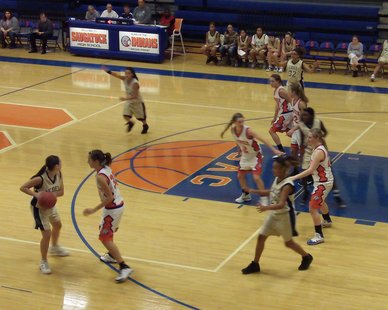 UNDATED (WHTC) - Friday night high school girls' basketball action along the Lakeshore saw Hamilton humble Holland, 62-22; Holland Christian halt West Ottawa, 60-48; Hudsonville handle Zeeland East, 43-32; Coopersville corral Zeeland West, 39-37; Bangor beat Saugatuck, 46-31; and Gobles ground Fennville, 51-20. On Tuesday, boys' play begins with West Ottawa at Zeeland East contest on 1450 WHTC and www.whtc.com at 6:40 PM, and a girls'/boys' doubleheader in Saugatuck between the Indians and NorthPointe Christian on 92.7 The Van and www.927thevan.com at 5:10 PM.
***
Hope College travels to Albion in MIAA women's basketball play this afternoon.
Grand Valley State's two teams are in Tiffin for GLIAC round ball action today.
State major college basketball this afternoon finds Michigan State home to Nebraska-Omaha, Michigan entertaining Iowa State, Central Michigan visiting Temple, and Detroit hosting Cleveland State. This evening, Oakland welcomes Missouri-Kansas City.
***
The Red Wings scored three goals in the first period, and Jimmy Howard stopped 27 shots for his and his team's seventh straight victory, as Detroit won at Buffalo last night, 4-1. The Wings are in Columbus on Sunday evening.
Jonathan Toews scored the lone goal in the shootout as the Blackhawks edged the visiting New York Islanders last night, 5-4. Chicago skates at St. Louis this evening.
***
Francis Pare and Louis-Marc Aubry each had a goal and two assists to lead the Griffins past visiting Toronto last night, 6-3. Grand Rapids is home to Chicago at Van Andel Arena this evening.
***
The inaugural Big 10 football championship game is tonight in Indianapolis, where Michigan State battles Wisconsin for a Rose Bowl berth against Oregon, who won the Pac 10 title tilt last night by downing UCLA, 49-31.