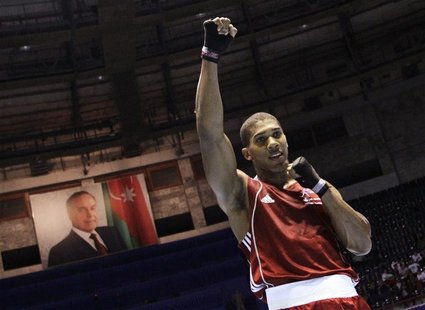 By Alan Baldwin
LONDON (Reuters) - British super-heavyweight Anthony Joshua has Audley Harrison, rather than Lennox Lewis, as his inspiration as he targets boxing gold at his home London Olympics next year.
Harrison was a memorable champion at the 2000 Sydney Games but his later lacklustre professional career proved as forgettable as his opponents.
Lewis, who won super-heavyweight gold for Canada in 1988 before fighting professionally as a Briton, went on to become one of the giants of the ring and undisputed heavyweight world champion.
Joshua, speaking to reporters at a presentation for the five British boxers who have already "punched their tickets" and qualified for the Games, said Harrison was the bigger role model at this stage in his career.
"A lot of people have got bad things to say about him but at the same time, for British boxing, he kind of opened up so many gates," said the 22-year-old, one of Britain's top hopes after winning a silver medal at the world championships in Baku in October.
"He was an ABA champion, a Commonwealth champion, so as an amateur you've got to remember what he did. We're all going through that same path now and if I could achieve those things as an amateur...
"I know he didn't do too well as a pro, but from an amateur stance, he's an Olympic champion as a boxer and he is British."
STAR ATTRACTION
Joshua, who beat Italy's double world and Olympic champion Roberto Cammarelle before losing the Baku final 13-12 to home fighter Magomedrasul Majidov, has been portrayed already by some commentators as the "next Lennox Lewis" despite taking up the sport only four years ago.
By his own admission, he is a natural.
"It's the Olympics that makes that journey so much more special," he said, speaking just a stone's throw from the Olympic Stadium on a chilly day in East London. "I am made for it, I think.
"I am not overwhelmed by it. Sometimes I think this is what I was supposed to do."
The man who now stands fourth in the amateur world rankings said he was in no rush to turn pro, however, and would be keeping his options open after the Games.
"If you win an Olympic gold, you are never a former Olympian," he said.
"As a pro, as a heavyweight champion, once you lose the belts you are a former heavyweight champion. But you are always an Olympian, you can't take that away.
"I can't buy the experience that I am getting now. as soon as I turn pro, I've got no more options.
"I am not looking to rush anything," added the London-based boxer. "When I first got into boxing, I thought 'Yeah, heavyweight champion of the world'. But as I got in I see that the pros is a business. There's not so many good people in the pro world."
The five boxers selected so far for Team GB are Joshua, flyweight Andrew Selby, bantamweight Luke Campbell, light welterweight Tom Stalker and welterweight Fred Evans.
Britain won three medals at the last Games in Beijing, including a gold by middleweight James DeGale.
"The five boxers are all a credit to the squad and if they box to their full potential then every one of them has the talent and ability to do well and secure a medal," said boxing team leader Rob McCracken.
"We always knew we had something special on our hands with Anthony but his rate of progress this year, for someone who is still relatively inexperienced, has been absolutely fantastic," he added of Joshua.
"As long as he continues to work hard in the gym, listen to the coaches and develop as a boxer then he has every chance of being a star in his hometown Olympics."
(Reporting by Alan Baldwin, editing by Dave Thompson.; For Reuters sports blog Left Field go to: http://blogs.reuters.com/sport)