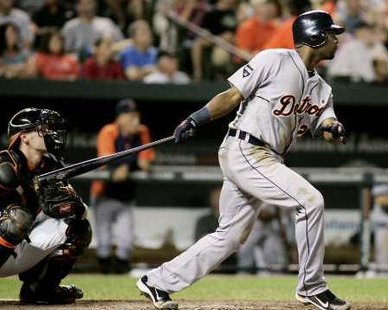 UNDATED (WHTC News) - Wilson Betemit's RBI double climaxed a three-run, eighth-inning rally, as the Tigers upended visiting Kansas City yesterday, 5-4. The finale of the four-game series at Comerica Park is this afternoon. Hear the game on 1450 WHTC, with coverage beginning at 12:40 PM.
Madison Bumgarner and Sergio Romo teamed to toss a two-hit shutout, striking out 12 in the processs, as they pitched San Francisco past the visiting Cubs yesterday, 4-0. Chicago opens up a weekend series at Wrigley Field tomorrow afternoon by hosting Pittsburgh.
Jason Kubel and Luke Hughes each cracked two-run homers in a six-run first inning, and visiting Minnesota held on to beat the White Sox yesterday, 7-6. Chicago takes today off before playing the Tigers at Comerica Park tomorrow evening in a game you can catch on 1450 WHTC, starting at 6:40.
James Robbins slugged two homers and drove in five runs, powering the Whitecaps to a 7-3 triumph at Lake County last night. West Michigan is now even with Fort Wayne for the final Eastern Division playoff spot with five games remaining for both teams. The series in suburban Cleveland continues this evening.