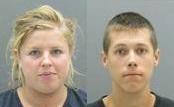 HOLLAND, MI (WHTC News) - Two 19-year-olds are in the Ottawa County Jail after a night of vehicle burglaries ended with arrests.
According to Holland Public Safety officials, a neighbor in the 38th Street-Columbia Avenue area noticed two persons late Wednesday night looking into a vehicle parked in a garage with its door open and called 911. When officers arrived, Allison Beckman was arrested almost immediately, while Tyler Fuller tried to flee on foot but was shortly apprehended. It was learned that at least four vehicles in the area had been burglarized, with some loot recovered as a result. Beckman and Fuller were arraigned in Holland District Court on Thursday on various charges.
Authorities add that more charges against the pair could be forthcoming, and ask anyone with any further information to call Holland Public Safety or Silent Observer (877-88-SILENT, www.mosotips.com).