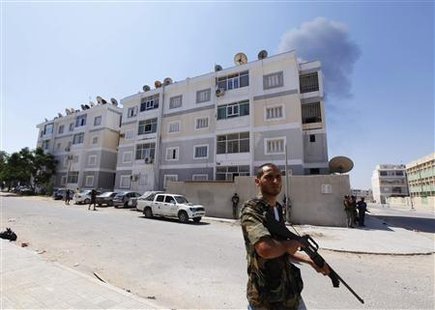 (Reuters) - Following are the latest political and military developments in the Libyan crisis.
* Italy has proof that Muammar Gaddafi planned to turn its tiny island of Lampedusa into an "inferno" by sending thousands of desperate African migrants there by boat, Foreign Minister Franco Frattini said.
* Libyan rebels said they were sending in special forces units to hunt for fugitive deposed leader Gaddafi, whose supporters are pinned down in pockets of resistance in the capital, Tripoli.
* NATO allies have succeeded in giving a military edge to the rebellion against Gaddafi, but the operation exposed cracks in the Western alliance that will complicate its involvement in future conflicts.
* The Libyan rebel political leader said on Friday the transitional government-in-waiting will seek a seat at the United Nations next month, following the apparent overthrow of Gaddafi this week.
* NATO said it conducted 133 air sorties on Thursday, 46 of them strike sorties to identify and hit targets.
* It said key targets hit on Thursday included:
-- in the vicinity of Tripoli: One command and control node, one surface-to-air missile transloader, one surface-to-air missile launcher;
-- in the vicinity of Sirte: 29 armed vehicles and one command and control node.
* Since NATO took command of air strikes on March 31, its aircraft have conducted 20,395 sorties including 7,681 strike sorties. NATO members participating in air strikes include France, Britain, Canada, Denmark, Belgium, Italy and the United States.
* Sixteen ships under NATO command are patrolling the central Mediterranean Sea to enforce a U.N. arms embargo. On Thursday, 25 vessels were hailed to determine destination and cargo. None were boarded or diverted.
* A total of 2,351 vessels have been hailed, 238 boarded and 11 diverted since the start of the arms embargo.