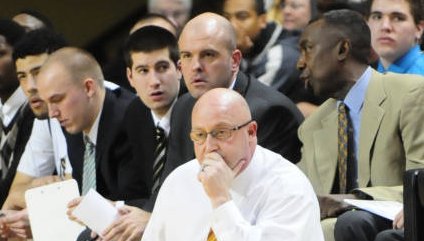 KALAMAZOO, MI (WHTC News) - By the numbers, Hope College's men's basketball team holds the proverbial whip hand on MIAA rival Kalamazoo College, winning 125 of 192 meetings over 98 years of competition. As for Kalamazoo's "other" school of higher education, it's a different story.
The Flying Dutchmen will get a chance to renew acquaintances with Western Michigan University, as Division III Hope will face the Division I Broncos in a Wednesday, November 30 contest at WMU'S University Arena. It will be the first meeting on the court for the two schools since the winter of 1951, when the-then Brown and Gold scored a 76-56 decision over the Orange and Blue. In 56 encounters, Western has won 42 times, while Hope's last triumph over the Broncos came just before the US involvement in World War II, a 47-43 verdict in the winter of 1941.
WMU has not officially announced its complete 2011-12 men's basketball schedule yet, but it is believed that this contest with the Flying Dutchmen would not count towards its record, while Hope officials say that the game would count for the Orange and Blue. It's the first time Hope will have played a Division I opponent since falling at Central Michigan in the winter of 1992, 109-90.
This and all Hope College Flying Dutchmen games can be heard on WYVN-FM 92-7 The Van and on www.927thevan.com.