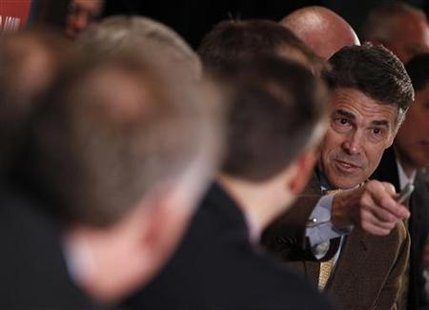 WASHINGTON (Reuters) - President Barack Obama said on Tuesday he is cutting potential rival Rick Perry "some slack" for comments that appeared to criticize the president for not serving in the armed forces.
Obama had a dig of his own, saying he was not taking the comment to heart because of the Texas governor's lack of experience in running for president.
Obama was asked in an interview on CNN's "The Situation Room" whether he viewed as disrespectful Perry's comment that U.S. military personnel wanted a president who had worn the uniform.
"Mr. Perry just got into the presidential race. I think that everybody who runs for president, it probably takes them a little bit of time before they start realizing that this isn't like running for governor or running for senator or running for Congress, and you've got to be a little more careful about what you say," Obama responded.
"But I'll cut him some slack. He's only been at it for a few days now," he said.
Campaign season appears in full bloom despite the election being over a year away in November 2012 and it was the second time in the same day the White House pushed back against Perry, one of the top three Republican frontrunners.
Earlier Tuesday, the White House denounced a comment by Perry that he would consider it "treasonous" if Federal Reserve Chairman Ben Bernanke "prints more money between now and the election."
White House spokesman Jay Carney said, "I certainly think threatening the Fed chairman is not a good idea."
(Reporting by Tabassum Zakaria; Editing by Cynthia Osterman)