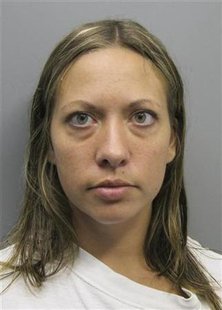 By Keith Coffman
DENVER (Reuters) - Three fugitive siblings accused in a three-state crime spree were ordered held on $1.2 million bond each by a Colorado judge and were likely to face attempted murder charges, authorities said on Thursday.
Ryan Edward Dougherty, Dylan Dougherty Stanley and Lee Grace Dougherty each face potential charges of attempted murder and first-degree assault of a peace officer, said Bobbi Griffin, district administrator for the 10th Judicial District, in a written statement.
The trio was advised of the charges against them on Thursday via video from the Pueblo County jail.
The two brothers and their sister were wanted for what authorities say was a crime spree that included allegedly shooting at a Florida police officer and robbing a bank in Georgia.
They could face charges in those states, in addition to federal bank robbery charges.
The siblings were spotted in Colorado on Tuesday, and were arrested a day later after a high-speed chase and shoot-out with police near Walsenburg, Colorado.
Lee Dougherty was shot and slightly wounded by police as she loaded a weapon after the car the fugitives were in crashed when police deployed stop sticks, the Pueblo County Sheriff's Office said.
According to an arrest warrant affidavit, Lee Dougherty admitted to police she pointed a gun at a police officer, and that she "deserved to get shot."
Their next court appearance in Colorado is scheduled for August 15.
Three highway workers who helped catch one Dougherty brother appeared on the ABC news program "Good Morning America" on Thursday. It was unclear which brother they helped capture.
Dave Dallaguardia, one of the three workers, said the man's shirt was slightly torn and bloodied.
The highway workers said they called police about the escaped Dougherty brother, kept watch on him and aided in his capture.
(Additional reporting by Alex Dobuzinskis; Editing by Dan Whitcomb and Jerry Norton)