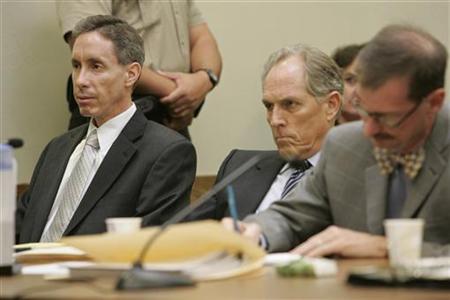 By Jim Forsyth
SAN ANTONIO (Reuters) - Texas jurors heard polygamist leader Warren Jeffs, who heads a breakaway Mormon sect, warning underage girls in a tape played on Monday that God would reject them if they refused to have sex with him.
One juror broke down in tears as prosecutors in the punishment phase of Jeffs' child sex assault trial played explicit audio recordings detailing his sexual involvement with multiple young girls at his group's west Texas ranch.
In one tape, Jeffs is heard telling the girls they "need to be excited." Jurors also heard him tell the girls that if they refused him in what he has dubbed the "heavenly sessions", they would be "rejected by God."
Jeffs, 55, faces a maximum of 119 years in prison after he was convicted last week on charges of sexual assault of two girls whom he "married" when they were 12 and 14 years old at his sect's Yearning for Zion Ranch in rural Texas.
Jeffs fathered a child with the older girl.
Jeffs is considered the spiritual leader of the Fundamentalist Church of Jesus Christ of Latter Day Saints, and has argued in loud outbursts that the Texas court was trampling on his religious rights by trying the case.
His polygamist sect, which experts estimate has 10,000 followers in North America, has been condemned by the mainstream Mormon Church and is accused of promoting marriages between older men and girls.
Prosecutors also showed the jury several photographs of Jeffs casually dressed in shorts, a T-shirt, and a cap with a beer logo on it, countering the image of Jeffs in the courtroom as a conservatively dressed religious man.
Also introduced into evidence were several written statements that Assistant Texas Attorney General Eric Nichols said Jeffs either wrote or dictated, including one in which he wrote, "If the world knew what I was doing, they would hang me from the highest tree."
POLYGAMIST COALITION DENOUNCES JEFFS
Jeffs has been "boycotting" the punishment phase of the trial since he walked out on proceedings on Friday, sitting instead under guard in another room of the Tom Green County Jail in San Angelo, where the trial is taking place.
As the Jeffs trial raised the profile of U.S. polygamists, a coalition of fundamentalist and polygamist groups in Utah denounced the FLDS leader and pledged that women who choose to participate in plural marriages wait until they are 18 years old to do so.
Jeffs, whose banned offshoot of Mormonism says men have to have three wives to be admitted into heaven, represented himself in his own defense and has repeatedly said he was the subject of religious persecution.
He introduced the Book of Mormon into evidence in his trial, and said the religion sanctions and protects polygamist relationships. The mainstream Mormon Church, which outlawed polygamy in the 19th century, considers the FLDS to be an outlaw cult.
The Utah-based Apostolic United Brethren, an umbrella group for several polygamist congregations, denounced what they called "despicable and unconscionable acts" by Jeffs, who Nichols says has 78 "wives," 24 of whom were under the age of 17 when the relationships began.
"We repudiate and denounce Warren Jeffs' inappropriate actions in linking his despicable and unconscionable acts to the Gospel of Jesus Christ and to (Mormon Church founder) Joseph Smith, Jr.," the group said.
The organization, which does not represent Jeffs' group, called his "spiritual marriages" with girls as young as 12 "radical religious deviations and abuses of power under the false pretense of priesthood authority."
Testimony was expected to resume on Tuesday.
(Edited by Karen Brooks and Cynthia Johnston)